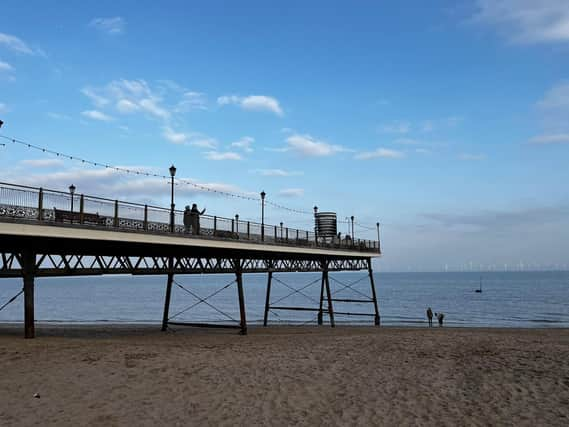 The mini turbine, which has been placed at the end of the pier is off-grid, is part of a three-month pilot using Norwegian technology that is supporting businesses to start generating green energy
It is being facilitated by South and East Lincolnshire Councils Partnership and has been brought to Lincolnshire by .DSR Energy and Ventum Dynamics. Another pilot scheme has been installed at at FreshLinc Ltd in Spalding
Skegness Pier owners Mellors Group set out to restore the attraction to its 19th century glory and to create a visitor attraction fit for the 21st century in 2021.
To celebrate the Year of the Coast, employees of Skegness Pier and the other attraction on the coast owned by the Mellors family, Fantasy Island, will be taking part in a new community scheme to help keep local beaches clean and protect the coastline.
A partnership has been formed with two local organisations, the 'Lincolnshire Wildlife Trust' and 'Coastal Access for All', to support their purpose whilst raising a sense of community and cementing Lincolnshire as one of the best and most loved UK seaside resorts.
James Mellors, Operations Director of Mellors Group said, "We acknowledge that our businesses have an effect on the environment, and we are devoted to minimising any potential negative impact that they create.
"When we were approached by The South and East Lincolnshire Councils, we were very open to facilitating their new innovative wind turbine pilot.
"As a business we are continually looking into new ways to become more eco-friendly and will actively adopt new systems in order to achieve a more sustainable future."
Coun Steve Kirk, Portfolio Holder for the Coastal Economy at ELDC said: "Here on the coast we have so many venues that use huge amounts of power and just one of these on a roof could help power them and reduce costs.
"This is a win-win for everybody. I'm looking forward to seeing the data generated and believe this could be a game-changer for businesses and homes in our area."