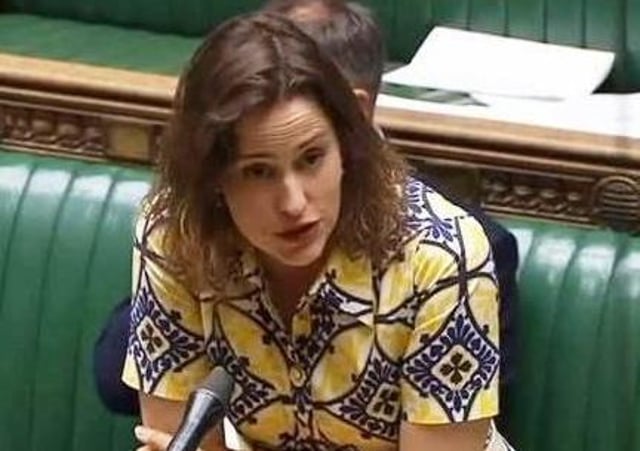 Victoria Atkins - in talks with health service bosses over the roll out of vaccine centres.
Ms Atkins is concerned about the lack of provision for patients to have jabs, particularly in Horncastle and Woodhall Spa.
Residents in both places - and many rural villages - are further away from centres than the Government's end-of-month target of 10 miles.
That has led to issues with people - especially the elderly and vulnerable - struggling to attend appointments.
Ms Atkins recognises the impact a major new large vaccine centre in Boston will have, but is keen to see a local centre set up in what she says would be a 'pragmatic solution'.
She also revealed bosses are planning a mobile vaccine service for people who cannot leave their homes.
Ms Atkins also praised the work of NHS staff, volunteers and Armed Forces for their on-going efforts in the vaccination programme.
She told the News: "Last Friday, I spoke to the Chief Executive of the Lincolnshire NHS Clinical Commissioning Group, John Turner, about the vaccination roll out in the county.
"I shared my concern that there still appeared to be gaps in provision in my constituency, particularly around Woodhall Spa and Horncastle.
"The NHS has now committed to looking into this further and I am sure that the CCG will find a pragmatic solution in addition to what is already available.
"Mr Turner has reassured me that all GP centres in Woodhall Spa and Horncastle are currently signed up to the Louth Hospital site.
"Residents in these areas who fall within one of the key priority groups are being contacted and are currently being vaccinated at the site in Louth.
"I was given further reassurances that residents in care homes across the constituency are being vaccinated thanks to specific, designated teams.
"A roving service will also be provided for people who cannot leave home to receive their vaccination.
"I would like to thank all our NHS professionals, volunteers and members of the armed forces for their ongoing efforts in our vaccination programme at Louth Hospital, Franklin Hall in Spilsby and in care homes across the constituency.
"Thanks to their vital work, many of our residents in key priority groups have been receiving the vaccine, helping to protect them."
Many residents - and leading local political figures - are also calling for a local centre, perhaps at Stanhope Hall in Horncastle.
Ms Atkins has also urged more pharmacies to sign up to a new scheme to help victims of domestic abuse.
She is one of the key figures behind the roll out of the 'Ask for ANI' scheme.
Victims of domestic abuse will be able to access support at Boots UK and 257 independent pharmacies across the UK.
Ms Atkins said: "This is about providing another avenue of support to victims who can often find it difficult to seek help from their perpetrators."
She confirmed the Government was committed to delivering a landmark Domestic Abuse Bill.