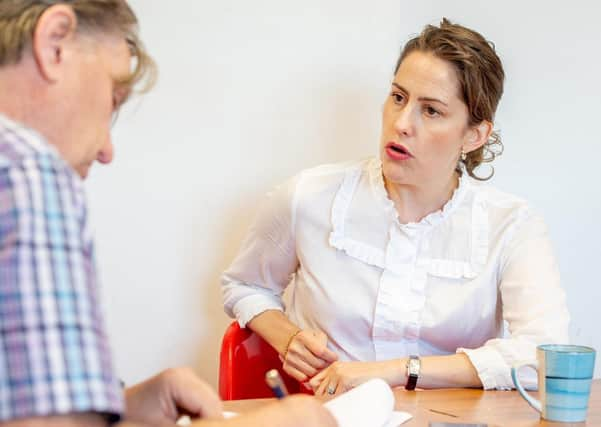 Charities, foodbanks and other organisation have slammed the Government's decision not to back football star Marcus Rashford's campaign.
Leader readers posted more than 100 comments on our Facebook page and have described Ms Atkins' actions as 'disgraceful', 'despicable' and 'disgusting'.
However, Ms Atkins has defended the Government's policy. In a strongly worded statement, she shared everyone's determination to end child poverty and added: "Let's work together to achieve that."
Commenting on Facebook, Avril Stevenson said: "(The vote) was absolutely disgusting. School meals should be free to all children in my opinion and should extend to school holidays to those in need."
Lulu Le Goff commented: "Disgraceful!"
Carol Lewis said: "Shame on them!"
Billy Cram added: "For some kids, it is probably the only meals they have if on a low income - disgusting!"
In a statement issued on Tuesday, Ms Atkins said: "The government has been working throughout the pandemic to get help and support to those who need it most, from the furlough scheme and grants for small businesses to increasing Universal Credit payments.
"Clearly, no one wants to see children go hungry. We may have different ideas on how best to ensure this does not happen but this underlying truth should not be lost in the debate.
"We just have different ideas from Labour on how to build sustainable programmes to tackle child hunger during the school holidays.
"Firstly, we have increased welfare support for those on lower incomes by increasing universal credit, working tax credit and support for renters.
"The furlough scheme, job support scheme, self-employed income support and grants and loans to businesses have helped many thousands of people keep their jobs in Lincolnshire.
"We have expanded the free school meals scheme to children who have not been eligible before, including those who have no recourse to public funds.
In addition, as part of a national scheme to help ensure the wellbeing of the most vulnerable, the government has paid more than £820,000 to Lincolnshire County Council to provide food and other essential items to local people who need it most.
"Lincolnshire County Council has already allocated this money to the Lincolnshire Food Partnership, the Community Lincs Programme and the Lincolnshire Resilience Forum to support food banks, neighbourhood schemes and to buy food for the most vulnerable residents in our county at this difficult time. Importantly, these services provide on-the-ground expertise and support that food vouchers alone simply cannot give, and they help families with pre-school children who do not yet receive free school meals.
"Some have asked why we extended the free school meals scheme over summer but not now.
"Ministers took the unprecedented step of extending the scheme over the summer holidays because they recognised the impacts on the poorest families who had had to pay for meals in lockdown when their children would ordinarily have received free meals at school.
"Now that schools have reopened, children are once again receiving free meals at school.
"The government understands, however, the continuing impacts of the pandemic and so ran the Holiday Activities and Food Programme over the summer.
"This programme helped up to 50,000 disadvantaged children with free healthy meals and activities.
"The positive impacts of activities and support in this scheme have helped inform the government's programme of work to tackle child hunger.
"Finally, I would like to thank all of the local businesses, community groups and people who have volunteered to help feed children in this time.
"This is a continuation of the public spirit and generosity that we saw during lockdown.
"I share your determination to end child poverty.
"Throughout this difficult period, I have worked hard to support children, families and vulnerable people as your MP and as Minister for Safeguarding and will continue to do so.
"I reiterate the underlying truth that we all want to end child poverty. Let's work together to achieve that."
Meanwhile, Lincolnshire County Council has responded to calls for the provision of free school meals to low income families over the half term holiday.
Councillor Martin Hill, Leader of Lincolnshire County Council, said: "We have no intention of leaving vulnerable children or anyone else to go hungry over holiday periods.
"The government has made substantial additional financial support to low income families to further help them in these difficult times.
"LCC also received £835,000 from the government for additional support for vulnerable people which we have already allocated as follows:
• Additional funding of almost £400,000 to the Lincolnshire Food Partnership to ensure new and emerging local food banks will have grants and support in place to help them to thrive.
To find details of your local food bank go to www.lincolnfoodpartnership.org/
• We've also given a further £215,000 to the Community Lincs Programme run by the YMCA which support Good Neighbour schemes and food kitchens for communities in Lincolnshire.
You can find schemes in your area here: www.maphub.net/LincsGNS/lincs-gns
• During the Covid 19 pandemic we've also provided the Lincolnshire Resilience Forum (LRF) with £217,000 to bulk purchase food stock to support our most vulnerable residents.
"As always we will respond to requests for support positively and if there are children in need we will of course act immediately to keep them safe.
"If people need help then they can contact us on 01522 782030 and we will direct you to further support."