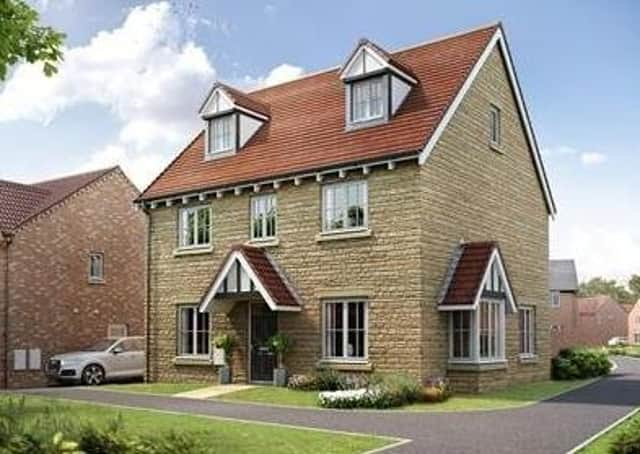 Planners at East Lindsey District council are expected to make a decision on the application by Gleeson Regeneration within the next four weeks.
Parish councillors opposed the plans at a meeting last month which was attended by many residents.
Since then, residents have contacted Sir Edward who has written to ELDC Chief Executive Rob Barlow to express his concerns.
In his letter to residents, Sir Edward says: "I have written to Mr Barlow on your behalf giving my full support to your concerns and asking for an explanation."
Resident Jeff Vause, who is among the objectors, welcomed Sir Edward's support.
He said: "At every application for planning on that site, the Parish Council voted unanimously to oppose this further attempt to irreparably alter the character of Wragby, and place unnecessary burdens on the village's services and amenities.
"Local residents are grateful to members of the Parish Council - both past and present - for their continued support in this matter, and the more we are able to voice our concerns, the more other people will have to listen.
"We are, of course, grateful to Sir Edward and hopefully his letter will have an impact."
Mr Vause says residents have been 'afflicted' with four different planning applications for the site since 2016, ranging in size from 49 to 158 dwellings.
He added there are concerns about a number of aspects, including flooding, sewerage and the impact on already over-stetched local services, notably the NHS and schools.
He said: "Some people living in Wragby may know nothing of this, but rest assured, if it goes ahead, it will affect us all. In the latest year, the school had 31 places with 39 applicants, so eight youngsters have to experience their first year at school in another year's classes, instead of a reception class.
"That's as it stands now, not with another 147 homes!"
He adds the local doctors would also struggle to cope: "NHS England estimate an extra 147 homes will cost around £89,000 to facilitate. That's if the surgery can find the doctors and staff required to fill any new posts."
Mr Vause said that under the ELDC Local Plan, Wragby has been allocated 32 new homes. While accepting that is not a maximum figure, he says 147 homes is 'excessive.'
He adds: "All residents want to see is common sense applied.
"We have a perfectly good potential site in Millbrook Lane, where land that is ripe for housing development has lain dormant for years, despite all infrastructure being in place like surfaced roads, street lighting and services. However, this site area is never used, and the land is seemingly held to ransom."
ELDC's planning portal shows there are over 75 neighbour objections to the application - and none in support.
In a document supporting the application, Gleeson say the development would benefit Wragby and would 'integrate well into its surroundings'. Gleeson add 90 per cent of the homes would be affordable for local people in full time employment.'