MP Victoria Atkins welcomes Louth Area of Sanctuary and Ukrainian refugees to Parliament
​Ukrainian refugees have been invited to Parliament by Louth's MP.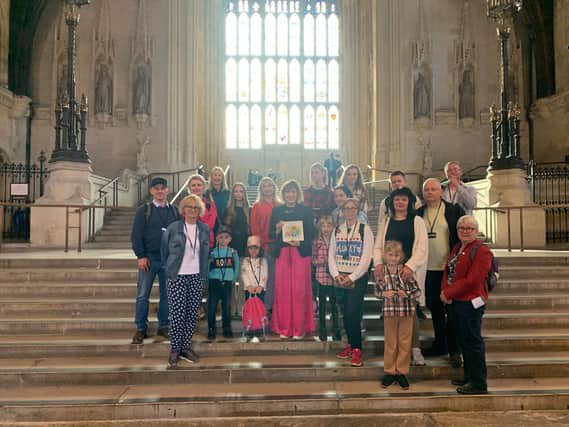 Louth and Horncastle's MP, Victoria Atkins, welcomed representatives from the Louth Area of Sanctuary and a group of Ukrainian refugees to Parliament for a tour this week to meet the group and answer questions about how Parliament works.
The Louth Area of Sanctuary is a grassroots community initiative set up to welcome, connect and support refugees in the Louth area.
The group were able to stand on the steps where President Volodymyr Zelensky famously addressed Parliament in Westminster Hall back in February, as well as see where President Zelensky appeared via live stream in the House of Commons Chamber in March to appeal directly to Members of Parliament.
Ms Atkins was also presented with a watercolour painted by Valentyna, a Ukrainian art teacher who was part of the tour group. The painting features a sunflower and poppies standing side by side to symbolise the lasting connection between Lincolnshire and Ukraine.
Victoria Atkins MP said: "It was lovely to be able to welcome representatives from the Louth Area of Sanctuary and our Ukrainian friends into parliament.
"The Louth Area of Sanctuary do fantastic work supporting refugees in our local area and bringing members of the community together. I would like to thank everyone who helped with organising the visit.
"I would also especially like to thank the wonderful Ukrainian artist Valentyna for her beautiful watercolour painting which symbolises the close bond that the people of Lincolnshire share with the people of Ukraine."
Kate Mitchell, chairman of the Louth Area of Sanctuary said: "Through the Ukrainian Refugee Integration Fund we have been able to provide an intensive cultural and social programme for the Ukrainian refugees in the Louth area.
"As part of this we visited the Palace of Westminster where our guests enjoyed a tour of Parliament and learned about our democratic processes.
"We were warmly welcomed by Victoria Atkins, MP. Our Ukrainian guests thanked Victoria and her team for their help in processing visas and resolving their problems.
"It meant a huge amount to be able to join Victoria on the steps where their president, Mr Zelensky, addressed Parliament a few months ago."