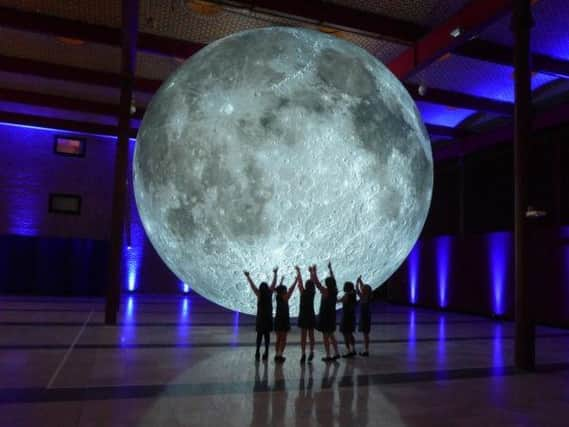 Their six-week stay will see the venue transformed from a traditional theatre into a space for reflection, observation and education. Gaia (Earth) opened the season over the half-term.
The theatre will be hosting Museum of the Moon until March 9.
The moon installation measures seven metres in diameter and features 120dpi detailed NASA imagery of the lunar surface.
At an approximate scale of 1:500,000, each centimetre of the internally lit spherical sculpture represents 5km of the moon's surface.
Viewing sessions are Free of Charge (FOC) but tckets must be pre-booked by visiting embassytheatre.co.uk
Children under the age of 14 must hold a ticket and be accompanied by a responsible adult 18+
Visitors are advised to plan around 30 to 60 minutes for your visit (visitors can remain longer in the exhibition and café area as capacity allows).
On selected viewing sessions added free arts-based activity may be available to take part in.
Spaces for each are limited and on a first come-first serve basis within your viewing slot. They include:
The Average Scientist | TAS Talks
To The Moon & Back Puppet Show
ChillOut Café with music from #4EBT2
Screening 'We Chose Skegness (1961)'
Digital i-PAD/Phone Workshops (own device required)
Mars will be featured from March 10. Measuring seven metres in diameter, the artwork is 120dpi detailed NASA imagery* of the Martian surface.