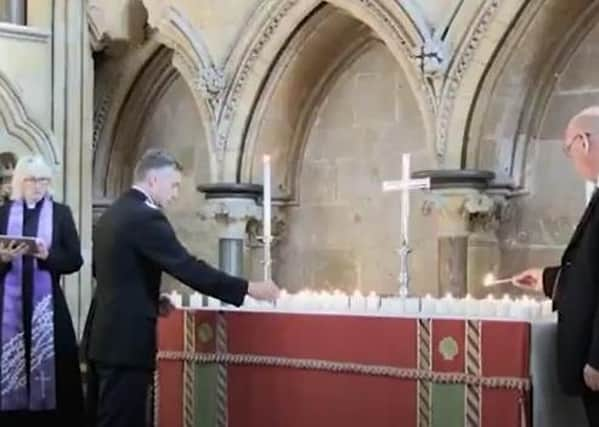 The NPMD was originally due to be a much larger event staged in Lincoln but, understandably due to the Covid-19 pandemic, original plans were postponed.
Despite these changes, Chief Constable Bill Skelly was keen for a service to be held to recognise serving officers who had passed away.
He was joined at the cathedral by Deputy Force Chaplain, the Rev Tanya Lord, and the Chair of the Lincolnshire Police Federation, Phil Clark.
A candle was lit to each of those who had died while in service.
Chief Constable Skelly said: "Policing in the County has enormous challenges to contend with, particularly the ever growing pressures on those who serve as police officers.
"As society changes during these unprecedented times, so does the way in which we support and protect our communities.
"The role performed by police officers is one of the toughest there is and often their efforts are in the background with very little opportunity for the recognition they deserve.
"National Police Memorial Day is such an important and significant day in the policing family calendar.
"Policing comes with a huge amount of risk and the National Police Memorial Day is a stark reminder of just how precious life is and the enormity of what some can be called upon to give to protect others.
"We will always remember the sacrifices made – we honour our brave officers and give our utmost respect to their loved ones who mourn their loss.
"For their dedication to duty in keeping us safe, we are forever grateful, and they will always remain in our thoughts."