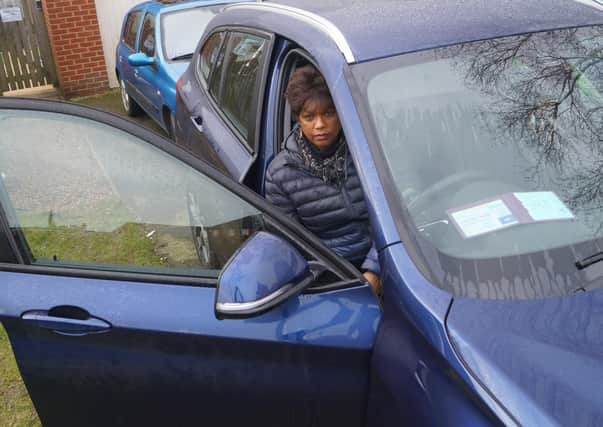 Sandra Murphy, who is undergoing cancer treatment, says she is exempt from wearing a face covering and said she feels people like her are being targeted.
Government guidelines acknowledge that not everyone is able to wear a face covering and there are some genuine reasons as to why some people are exempt.
The guidelines also stress that anyone who is exempt does not need to routinely produce evidence of their exemption.
On January 15, Ms Murphy visited a Morrisons store and then went on to purchase fuel at Hansard Haulage in Nettleton.
She explained: "At Morrisons, I got accosted by the manager, security guard and two members of staff.
"They were demanding that I show them an exemption certificate.
"I showed them my chemotherapy NHS treatment card - anybody can print an (exemption) certificate off the Government website, but you can't print a treatment card off it.
"I told them (Morrisons) that the card overrides what they wanted and that I have a medical exemption.
"The amount of hassle and stress it caused me - I came out of the shop shaking.
"Morrisons staff told me that I had to wear a lanyard - I don't have to wear a collar around my neck to show that I have an underlying issue.
"There is nowhere on the Government website or regulations that say I have to wear a lanyard.
"Why do I have to do that?
"The NHS treatment card should be enough and the fact that I have a blue disabled badge is enough.
"I felt as if they were telling me to shop elsewhere.
"In the end, they did let me shop, but it was still humiliating.
"I left Morrisons and went to Hansard Haulage and they did the same thing to me."
Ms Murphy says she has been a regular customer at the Nettleton garage and claimed staff are aware of her face covering exemption.
However, on this occasion, after filling her car up she went to pay in the shop,but says she was told by the business owner 
that nobody was allowed to enter (the shop) without wearing a face covering.
Ms Murphy paid for her fuel and left.
The following Monday, Ms Murphy needed fuel again, as she had a hospital appointment early the next morning, and returned to Hansard Haulage.
She claimed: "Even before I had got out of my car ,the owner came out and said he was not serving me.
"I told him he can't refuse to serve me, it is discrimination if you don't.
"I got out of my car and went over to the door and he was ushering me away.
"They refused to serve me."
Following the incidents at Hansard Haulage, Ms Murphy says she is planning to take legal action.
She explained: "I have issued them a notice of compensation on the grounds of victimisation.
"Somebody said to me the other day - why don't you just go to a different petrol station?
"Why should I have to drive seven miles to Brigg or Market Rasen to get fuel?"
"I get a crate of beer for him and his guys every Christmas.
"I have been kind to them but I just feel they have treated me so appallingly.
"I didn't go there for an argument, I just went to get some fuel.
"I am not being discriminated against because I am disabled - he is discriminating against me because there is an issue arising from my disability which is that I don't need to wear a mask.
"In my opinion they are providing a public service - I think they have to make adjustments for me to be served at the pump.
"The reasonable adjustment - as I explained - is for them to serve me while I am sitting in my car and that way I don't need to go into the shop.
"They still refused to serve me even though the reasonable adjustment should have been made."
The Rasen Mail made several attempts to contact Hansard Haulage, but at the time of going press yesterday (Tuesday) lunchtime, they had not responded.
Ms Murphy says the treatment of people who are exempt from wearing a mask is a wider issue - highlighted by her recent experience.
She said: "We are treated differently now (people that are not wearing masks)
"The Government has made it so people treat us differently and that is wrong.
"At the end of the day, I am not wearing a mask because I have an underlying health issue but once I have explained that to somebody that should be enough."
The Rasen Mail has been made aware of another incident where a visually impaired woman, exempt from wearing a face covering because of breathing issues, went shopping [not in Market Rasen] with her daughter.
The woman was 'told she had to wear a mask by the store manager, and her daughter was asked to wait outside.
The mother was allowed to do her shopping but was then questioned by another staff member leaving her distressed.
• The Equality and Human Rights Commission has warned that retailers who do not follow official government guidance could be at risk of disability discrimination claims.
A spokesperson from the Equality and Human Rights Commission, said:"Protecting people's safety during the pandemic is paramount and we understand the need for additional measures to help save lives.
"However, the pandemic has had a considerable impact on disabled people and they must not be forgotten when implementing these measures.
"All staff and customers are encouraged to be respectful and aware that not everyone is able to wear a mask and should not be asked to give evidence of their exemption.
"We have written to supermarkets to remind them of our guidance in this area.
"By not following this guidance, retailers are at risk of disability discrimination claims."
• The Equality and Human Rights Commission protects people against discriminatory treatment and holds organisations, such as businesses and government, to account for what they do.
They use a range of powers to do so, by providing advice and guidance to individuals, employers and other organisations, reviewing theeffectiveness of the law and taking legal enforcement action to clarify the law and address significant breaches of rights.
The Government has issued guidance on face coverings to ensure that everyone is clear on who is exempt.
It states: "In settings where face coverings are required in England there are some circumstances where people may not be able to wear a face covering.
"Please be mindful and respectful of such circumstances. Some people are less able to wear face coverings, and the reasons for this may not be visible to others.
"If you have an age, health or disability reason for not wearing a face covering:
• You do not routinely need to show any written evidence of this
• You do not need show an exemption card
"This means that you do not need to seek advice or request a letter from a medical professional about your reason for not wearing a face covering.
"However, some people may feel more comfortable showing something that says they do not have to wear a face covering.
"This could be in the form of an exemption card, badge or even a home-made sign.
"Carrying an exemption card or badge is a personal choice and is not required by law.
"If you wish to use an exemption card or badge, you can download exemption card templates.
"You can then print these yourself or show them on a mobile device. Please note that the government is not able to provide physical exemption cards or badges."
To find out more, visit the Government website.