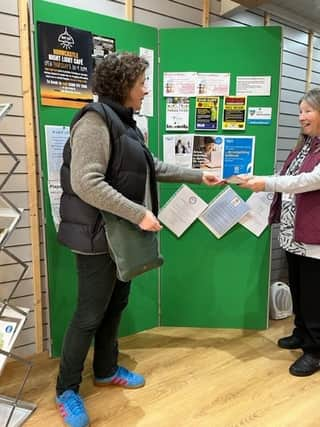 Making Links is a new CIC, attached to Horncastle-based charity Children's Links, and has set up in the charity's former charity shop Second Chance on the High Street to offer a drop-in advice centre.
The team behind Making Links were approached by the trustees of Horncastle Support Team, who asked if they would work with them to deliver this resource, which had been identified as something the town desperately needs.
Making Links trustee Isabel Forrester explained: "Many organisations had ceased face to face support at the start of lockdown and they simply have not started up again.
"Our community has been crying out for access to 'in person' advice, since the pandemic hit.
"Not everyone has the skills or confidence to access support digitally and a friendly face can make a huge difference as anxiety can be a barrier to making phone calls."
Operating between 10.30am to 2.30pm on Mondays, Thursdays, and Fridays, Making Links offers a range of services in perso,n including help with filling out forms in paper or e-format, help with employment, dealing with loneliness, and referrals to other services for help.
Drop-ins can also be signposted to the Horncastle Community Food Larder, as well as accessing a drop off point for physical or financial donations. The Larder is hoping to extend this relationship, as a space where its clients can get further support.
The team are in discussions with other groups and agencies, in the hope that they will also offer more specialised support from the office in the near future too.
Making Links encourage groups and support services to drop in any information or posters on events and services they offer the community, so that they can be displayed in the premises.
There is also a retail space, in which Making Links will start displaying and selling the work of local makers, and anyone who would like their work considered are urged to get in touch.