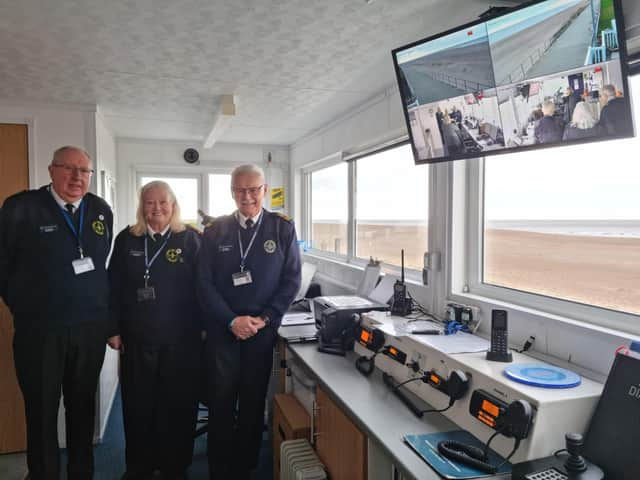 It's 7.30am and as the sun rises over the Wash lighting the sky in a golden haze, Coastwatch volunteers begin their shift at the NCI station in Skegness.
Although there is still over a month before visitors return to the coast to open their caravans, the beach can still be busy and a few dog walkers arrive for an early morning bracing walk.
"Nothing happens until it does," said Ian Granville Whalley, keeping a careful eye on them from the warmth of the watch station, located in the grounds of the former Miners' Holiday Retreat in Winthorpe.
The deputy chairman and national fundraising officer and volunteer senior watchkeeper for National Coastwatch Institute (NCI) recently hit the headlines after being awarded his MBE in the King's New Year's Honours for services to public safety and charity after raising thousands of pounds for the charity.
Today he is on duty as senior watchkeeper – overseering one of the winter's new recruits, Tim Griffiths from Wainfleet.
"We are all volunteers here whose role is to protect and preserve life," said Ian, who explained that although being acknowledged and receiving congratulations had been wonderful, there had been a more important outcome.
"The award has been brilliant at raising awareness of what we do, because a lot of people do not realise what our role is compared with the Coastguard and the RNLI,
"But often we are first to spot a situation arising that could require assistance by the RNLI lifeboats."
Coastwatch has made a few headlines in recent years which has helped with recruiting.
In March 2018, Her Royal Highness The Princess Royal visited the NCI Station in Winthorpe as her first official visit in her capacity as Patron of The National Coastwatch Institution.
The following year the NCI - which has stations along the Lincolnshire Coast in Mablethorpe, Chapel St Leonards as well as Skegness - marked their 25th anniversary.
A recipient of the Queen's Award for Voluntary Service, there are now around 22 volunteer watchkeepers, many of them now retired and looking for a valuable role in the community.
"Ideally we would like the man the station from dawn until dusk, but we need more volunteers to do this," said station manager Norma Stewart, who had popped in to say hello.
Lincolnshire World last saw Norma in 2021 – again to help with recruiting – and she was delighted to report seven more volunteers had joined over the winter.
Demand for their services had also risen.
Across the whole organisation there had been 841 incidents in the past year – a rise of 100 mainly due to staycations following the pandemic. Of these 18 were reported by NCI volunteers at Winthorpe that required the deployment of a helicopter or RNLI lifeboats.
Incidents can range from inflatables drifting out to sea to unseen dangers on the beach such a soft sand or weaver fish lurking in pools left by the tide.
"Whenever we hear a child crying relentlessly we know they have been stung by a weaver fish and all we can do is alert the emergency services because they need to get to hospital," said Ian.
From the Skegness Watch Station, volunteers can observe an eight-mile stretch of coast from Jackson's Point and Gibraltar Point, with the help of state-of-the art CCTV and powerful telescopes.
Learning how to plot charts is part of the training so watchkeepers can give the Coastguard, RNLI and emergency services the exact information they need.
"Our main job is to look out for anyone in danger or anything unusual, such as items that get washed up," said Ian.
A retired Merchant Navy radio officer, who now lives in Louth, Ian said it was not essential to have that kind of background, in spite of the equipment they now use.
"In a way all you need are eyes and a phone so we are lucky to have such state-of-the-art equipment," said Ian. "We can now zoom in on an incident and share it with the Coastguard and RNLI to assist them.
"But people shouldn't worry about the equipment because the training is excellent."
Coming to the end of his training, Tim started his four-hour shift updating the log book – a vital tool should information about an incident be needed at a later date.
Tim became a volunteer in October last year and, as a radio enthusiast, was immediately at home checking in with other watch stations along the coast.
"I also have a health and safety consultant background so that has helped me with my training.
"But getting involved was by chance – I saw an advert when I was at the Seascape cafe at the North Sea Observatory.
"I always said when I retired I wanted to do something in the community and this seemed perfect – it gets me out and keeps my body and mind active.
"I'm really enjoying it."
This year there are a number of new projects being introduced as part of a five-year business plan.
This includes a Respect the Water Campaign, where volunteers are trained to advise members of the public who may risk danger by swimming, boarding and paddling, or using dinghies, small yachts, jet skis or powered craft.
"We have hundreds of leaflets ready for the season to get the word out there," added Ian.
Even though the service is run by volunteers it doesn't come without cost.
It costs £6,000 a year to run the station, including ground rent, upkeep of the building, insurance and utilities.
A charity bucket can often be found outside the Coastwatch Station in Winthorpe, next to the dog watcher bowl, for anyone wishing to make donations.
Anyone interested in becoming a volunteer should call 01754 766398.