New drone technology could be introduced in Lincolnshire to make roads safer
Traffic police could be paired up with new drone technology to identify, track and stop speeding cars in Lincolnshire, it has been announced.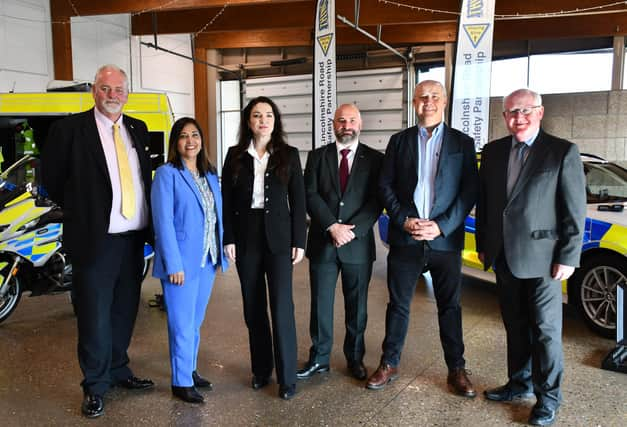 PCCs and their representatives from Humberside, Derbyshire, Bedfordshire, Cambridgeshire, Northamptonshire, Leicestershire and Nottinghamshire attended the East of England and East Midlands Road Safety Summit organised by Lincolnshire PCC Marc Jones and held in the county on Friday (September 15), where it was revealed that Lincolnshire is trialling a new scheme to make disqualified drivers wear electronic tags.
The event, held at the Epic Centre in Lincoln, saw Police and Crime Commissioners, road safety experts, and law enforcement agencies from around the region come together to look at how they can tackle road safety in partnership.
The move is a landmark step in tackling the issue of serious and fatal incidents on the region's roads, as the most recent Government figures show that in 2021, there were nearly 4,000 fatal or serious injury collisions in the East of England and East Midlands combined – with a further 434 in Humberside – which equates to more than 12 incidents a day.
The attendees heard how Devon and Cornwall Police had formed a new roads policing squad teaming up drone operators with roads policing officers, allowing officers to identify dangerous and speeding drivers along miles of road so they could intercept effectively.
The conference also heard about 'Vision Zero', a strategy and set of principles that work from the point of view that no road death is inevitable, and that we should strive to see everyone arrive home safely from their journey.
Vision Zero was first implemented in Sweden in the 1997, and the number of road deaths in Sweden has been reduced from 541 to 192 in 2021, despite traffic volumes increasing, and the PCCs will investigate the possibilities of our forces signing up.
Mr Jones said the event had been a really important step in creating a partnership approach to addressing an issue of huge importance to communities.
"The current level of deaths and serious injuries on our roads is proving to be a stubborn problem to eradicate," he said, "If we are to keep our residents safe we must both work smart and work together. Innovation and partnership are crucial to success.
"That is why I am so delighted that today's event saw fellow PCCs and road safety experts from Bedfordshire, Derbyshire, Humberside, Leicestershire, Northamptonshire, Nottinghamshire, and Cambridgeshire come together to make a difference.
"Getting agreement across such a large group of PCCs to work together is a huge step forward and I'm convinced it holds the key to saving lives."