New High Sheriff pledges to aid post-Covid-19 recovery
The new High Sheriff of Lincolnshire has pledged to help the county recover from the impact of coronavirus.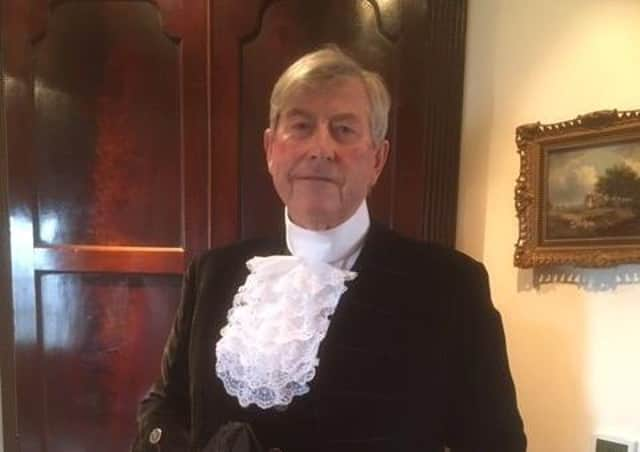 The New High Sheriff of Lincolnshire Michael Scott.
Michael Scott, of Ewerby Thorpe, took on the ceremonial role last Saturday, doing so from home via FaceTime link in an historic first.
The office of High Sheriff pre-dates the Norman Conquest.
The original 'Shire Reeves' were royal officials appointed to enforce the king's interests in a county, in particular the collection of revenues and the enforcement of law and order. While the role has evolved over the years, supporting the Crown and the judiciary remain central elements to it.
When a High Sheriff takes on the position, they are required to make a sworn declaration before a High Court judge or justice of the peace.
In light of the Covid-19 pandemic, it was advised that appointments take place by telephone or via link this year – the first time this has happened since the first High Sheriff was installed in Lincolnshire in 1060.
Last Saturday, the traditional declaration was used in a format that has changed little over centuries, with the High Sheriff promising to 'well and truly serve the Queen's Majesty in the office of Sheriff of Lincolnshire'.
The outgoing High Sheriff, William Day, then turned over to his successor, via FaceTime link through magistrate Nicola Howe, 'custody of all prisoners, rolls, and writs, and all books and matters appertaining to the office of High Sheriff'.
Mr Scott then made two appointments: Michael Pace, a solicitor, as Under Sheriff, and the Rev John Patrick, subdean of Lincoln as chaplain to the High Sheriff.
In commenting on his appointment, Mr Scott expressed his disappointment that it had not been possible for the turnover ceremony to take place as originally envisaged in St Andrew's Church, Ewerby, due to the self-isolating advice.
However, he said: "I look forward to the time when a semblance of normality returns and I can apply the enthusiasm I hold for my appointment to help the wider Lincolnshire area recover from the corona trauma."
Born in Grimsby in 1945, Mr Scott describes himself as a 'proud Yellow Belly'.
He has three children and nine grandchildren with wife Jackie.
Following marriage in 1969, he joined his father-in-law in farming in 1973.
Now retired, son Nick runs the farms at Holland Fen, Kirton Fen, Brothertoft and Ewerby.
Mr Scott is also chairman of Ewerby and Evedon Parish Council.