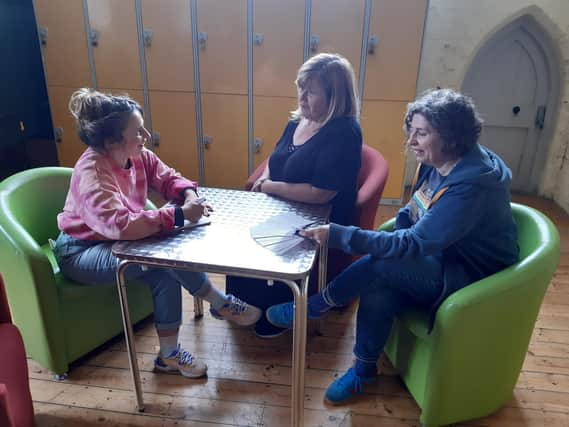 Making Links, a new Horncastle CIC, was initially set up in the charity's former charity shop Second Chance on the High Street to offer a drop-in advice centre offering a range of services in person, including help with filling out forms in paper or e-format, help with employment, dealing with loneliness, and referrals to other services for help.
Now, the CIC has grown in such popularity that it will be moving to Horncastle Community Centre into the upstairs church room, under the new name of Community Links.
The service came about when the team behind Making Links were approached by the trustees of Horncastle Support Team, who asked if they would work with them to deliver this resource, which had been identified as something the town desperately needs.
Community Links trustee Isabel Forrester explained: "We want to be able to work with other bodies also to be able to help more people with a proper support service, such as mental health, housing advice, and so on so that there's a place for people to come and get support on a range of subjects."
The first session at its new location will take place on Thursday (June 1) from 10.30am where people can drop in and to receive advice on employment, applying for benefits, budgeting, and signposting to other help and services.
Isabel added: "We're also hoping to be able to run workshops on budgeting and how to lower energy usage, and basic cooking skills so that people who access a food parcel from the food bank can use the items to create easy but healthy meals.
"We're looking at what works in other areas and hope to be able to bring those services here in a one-stop shop where people can access everything they need.
"We also want to work with other community groups and offer informal coffee mornings where people can come and feel comfortable to get the support they need."
To find out more about the new Community Links service, visit the community centre during sessions on a Monday, Thursday, and Friday between 10.30am and 2.30pm, email [email protected] or call 01507 523063.