New ruttier to be performed at sunset finale events on coast
A new ruttier created for the Lincolnshire coast will have its grand finale at sunset.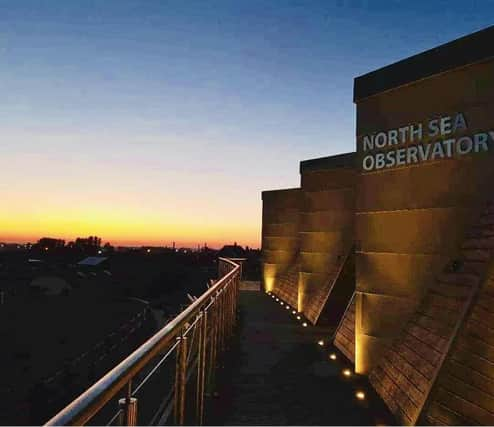 'Ode Offshore' will be performed at two exclusive events at the North Sea Observatory to celebrate the end of the artist's residency.
Artist Harriet Plewis has been in residence at the venue in Chapel St Leonards throughout the summer.
Ruttiers were ancient poems – spoken or sung – containing navigational instructions that sailors learned by heart and recited from memory to guide them across the seas.
Through public drop-in sessions, and workshops with community groups and local colleges, Harriet has encouraged people to share their experiences and memories of the Lincolnshire coast.
Those stories, thoughts and feelings – together with research trips along the east coast and beyond – have helped form the new ruttier, 'Ode Offshore'.
Laura Garner, exhibitions and interpretations assistant at Lincoln Museum, said: "As summer comes to an end, so too must our fantastic artist residency at the North Sea Observatory.
"Working directly with people who live on the coast and visitors, Harriet has managed to capture some of what makes Lincolnshire's coast so special. The North Sea Observatory has been the perfect place to inspire this work, with its huge windows offering sweeping views of the beach and sea.
"As part of the residency, Harriet has made use of the gallery to create a 'listening space', providing a place to rest and enjoy the ruttier when it is performed at sunset.
"An instrument made from items found along the coastline will also feature in the final performance.
"Come along to this unique event, relax, reflect and enjoy the specially created ruttier for Lincolnshire."
This artist residency at the North Sea Observatory is part of Lincoln Museum's Arts Council England National Portfolio Organisation programme of activity.
The two sunset performance events on Friday 27 and Saturday 28 October from 5pm are completely free, but spaces are limited. Book now to avoid disappointment at www.lincolnmuseum.com.
Or, keep up to date with activities, events at exhibitions at Lincoln Museum and the Usher Gallery by visiting www.lincolnmuseum.com.