Ofsted delivers damning report on failing West Ashby school
A West Ashby school – already reeling from an ongoing police investigation – has now been rocked by a damning Ofsted report.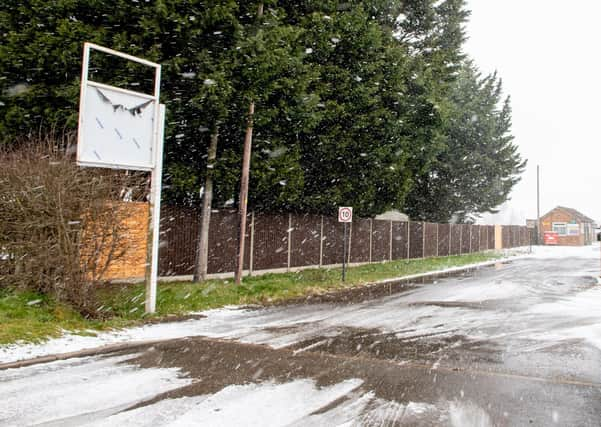 The Build-A-Future Independent School – owned by the Keys Group – hit the headlines in February when four employees were arrested and bailed as part of a probe into allegations of assault and neglect.
The Horncastle News can reveal Ofsted inspectors were ordered into the school in February by education chiefs.
Their report lists a catalogue of failings and concludes with the statement: "The school does not meet all of the independent school standards that were checked during this inspection."
The inspection was commissioned by the Department for Education following concerns raised about safeguarding arrangements, the quality of education and leadership and management.
Inspectors were aware that serious allegations of a 'child protection nature' were being investigated by the appropriate authorities.
The report explains that while Ofsted does not have the power to investigate the allegations, actions taken by the school in response were considered, alongside the other evidence.
At the time of the inspection, over half the pupils were learning remotely from home due to Covid-19.
Inspectors met with the managing director and the regional director of the Keys Group, and the outgoing and incoming interim headteachers.
They also spoke with most staff and a small number of pupils and looked at pupils' work.
Regarding the quality of education provided the main findings were:
•The proprietor has not ensured that pupils receive an appropriate curriculum.
•The school's curriculum policy does not match the curriculum that pupils receive.
•Expectations of what pupils can do are too low.
•Schemes of work are not challenging enough. They do not take into account pupils' aptitudes or potential. For example, some pupils are capable of achieving GCSE qualifications but the curriculum does not allow pupils the opportunity to take these courses.
•Pupils do not make the progress of which they are capable because the curriculum is not sufficiently challenging.
The report does acknowledge:
• Pupils experience a range of subjects, following academic and vocational courses. They are able to achieve accredited qualifications in some of these subjects, for example functional skills in mathematics and English, and home cooking skills.
•The school's personal, social, health and economic education curriculum covers an appropriate range of topics. For example, pupils learn about mental health, financial management and personal identity.
However, it adds pupils do not receive impartial careers advice and guidance and are not given enough information about their potential next steps.
Inspectors say pupils cannot make fully formed decisions about the career options available to them and are not well prepared for their: 'next steps or for life in British society.'
 Tutors do talk to pupils about what they might do when they leave the school and sometimes accompany pupils on visits to colleges.
Regarding staff, the report states:
• Some staff do not have sufficient knowledge and understanding of the subject matter they teach.
•Some are expected to teach outside their areas of knowledge.
•Not all staff have received appropriate training for their roles.
On a more positive note, the report acknowledges that although pupils are given work that does not challenge them, teachers make sure that they concentrate and complete the task in hand.
Some activities do encourage pupils to be creative, for example through combining art and personal development activities.
Staff also make use of resources that are appropriate to deliver the curriculum on offer.
Pupils who are learning from home are provided with paper-based packs of work.
Leaders have put in place a framework to assess pupils' work. Teachers use this to plan pupils' learning so that they progress through the curriculum on offer.
Teachers and support workers help pupils to manage their own behaviour. Staff work closely with pupils to help them make positive choices.
Pupils are encouraged to show respect for others, including those who have different faiths and values to themselves.
Perhaps the strongest criticism is reserved for the health, well-being and safety of pupils.
•The proprietor has not ensured that safeguarding arrangements are effective.
•There are considerable weaknesses in safeguarding arrangements.
•There is a lack of clarity about who has the responsibility for managing safeguarding concerns.
•Safeguarding arrangements are not joined up. There is no centralised system for recording and monitoring safeguarding matters.
•Key staff do not have access to the information they need to ensure the safety and well-being of all pupils.
•The quality of record keeping is poor. Records are disorganised. This prevents leaders from monitoring effectively any pupils about whom they have safeguarding concerns.
•Safeguarding records do not always show what, if any, action has been taken in response to any concerns about pupils' welfare.
The report adds that leaders do not always take appropriate action when a concern is raised about a pupil's well-being.
It states staff do not always follow up concerns and that pupils are not well monitored.
This, adds the report, means pupils do not always get the help and support they need.
•Pupils' individual risk assessments do not contain the detail that is needed to ensure their safety and well-being.
•Risks are identified, but actions to mitigate these risks are not clear, or not specified at all.
•There is no strategy to ensure that staff are aware of pupils' risk assessments.
•Risk assessments are not reviewed regularly. They do not contribute to pupils' well-being.
• Whole-school risk assessments do not consider risks to individual pupils. This includes pupils with specific identified risks
•Leaders are not sufficiently alert to the potential safeguarding risks related to pupils' absences.
•Leaders do not ensure that absences are followed up quickly enough.
•The school's safeguarding policy does not reflect the current arrangements in the school. It is not published on the school's website.
•Not all staff are aware of the most up-to-date safeguarding guidance issued by the Secretary of State. Some staff are not aware that such guidance exists.
•Not all staff are clear about to whom they should report concerns about an adult's conduct.
•Staff receive annual, online safeguarding training. However, the training does not fully consider the school's context. It does not, for example, focus on the specific safeguarding risks that are pertinent to the school's cohort. Some staff are not sufficiently alert to issues that affect the school's pupils.
Inspectors added that pupils were not involved in community activities and conclude by saying:
"The proprietor does not have sufficient oversight of what is happening in the school and has not checked information provided by leaders is accurate.
"Leaders do not have adequate plans for school improvement.
"Existing plans are vague and do not address weaknesses.
"There is no framework to ensure the school meets all the independent school standards."
The Horncastle News contacted Build-A-Future Independent School for a statement following the Ofsted inspection.
A spokesperson from the school said: "We take our responsibility to provide the best education and support for young people very seriously.
"We have taken immediate action to address all matters raised in this report and are working in close partnership with Lincolnshire County Council to achieve this.
"We look forward to welcoming Ofsted back to demonstrate the improvements we have made.
"The safety and well-being of young people is our absolute priority."