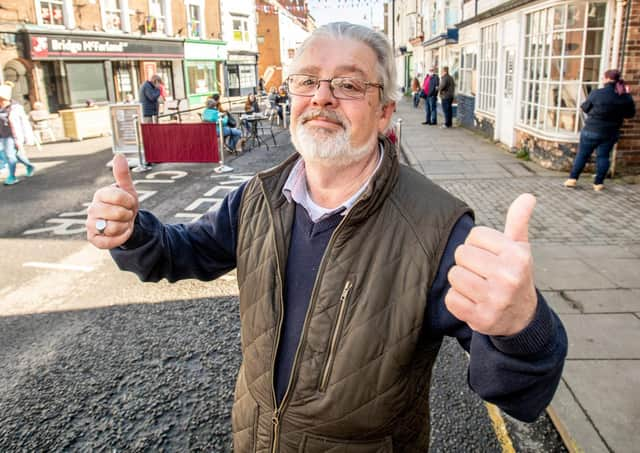 Thumbs up in Louth from Gary Dennis of the Independent Taders
Councillors have failed to convince Lincolnshire County Council to close the street – a decision which would lead to an outdoor cafe-style culture in the Market Place area.
Last night's meeting took place just hours after a similar project was launched in Louth's Cornmarket – and proved to be an outstanding success.
In Horncastle, councillors have been pressing for almost 18 months for St Lawrence Street to be closed to traffic.
They say the scheme would attract more people and help boost the town's economy after the impact of Covid-19.
But the county council, the authority responsible for road closures, has rejected several requests.
At the same time, the county council – and East Lindsey District Council – have given the go-ahead for the Louth scheme.
That launched on Monday and residents took advantage of the first day of the easing of lockdown restrictions to enjoy outdoor hospitality.
The Cornmarket will be closed to traffic up to four days a week.
Gary Dennis, from the Louth Independent Traders' Association, has thanked the county council and ELDC for supporting the project.
Her says the closure to traffic heralds the start of a new and thriving era for Louth's economy.
Horncastle councillor Alan Lockwood has accused the county council of favouritism while Coun Richard Barker says the town 'never gets anything.'
The town council has taken legal advice on whether they can go ahead with the closure without county council approval.
A report on any options open to the council was on the agenda for last night's meeting.
Coun Barker has suggested the town council should close St Lawrence Street – without permission.