Our second Lockdown Writing Competition winner
Our second winner in the Skegness Standard Lockdown Writing Competition has welcomed the encouragement of one of our judges - best-selling author Margaret Dickinson.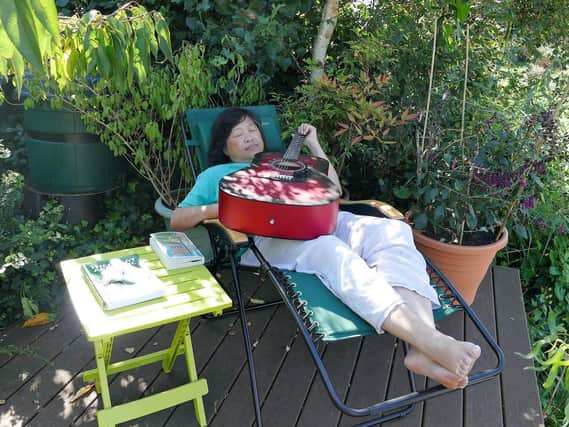 Joan Guyll requested that Margaret wrote, 'Don't stop writing. See where that got me!', as her personal message in two of the author's paperbacks, which she won as her prize, along with having her story printed in the Skegness Standard.
On hearing she was a winner, she commented: "Thank you so much for the good news!".
Joan lives with her husband, Brian, in a small town called Lydd on the Kent coast.
She was born in Singapore and is ethnically Chinese. She self-published Valley of the Gods, a novel based loosely on her life in the Indian Himalayas and also a non-fiction booklet known as Fascinating People of Battle, as a tribute to her retail customers during her 12 years stint as a shopkeeper. An ex-accountant, ex-shopkeeper and ex-mum, she is now retired, pigging out in her home town of Singapore during the winter months and cooling off in the UK for the rest of the year.
Here is her winning article:
She picked up the letter with trembling hands. Standing in that draughty corridor, the threadbare carpets did little to stop the cold seeping through the floorboards.
She shivered and decided to climb back up to her room before opening it.
On the third floor of the rambling old house, the room was one of three rented out to students.
Hers was 5 feet across and 6 feet long - just enough space for her landlord to furnish it with a single bed, a table and a chair.
Despite the peeling wallpaper and the smell of damp, there was good light from a window.
She'd bought a tiny potted gerbera daisy to liven up the place. Being an overseas student living in London, one learns to make do with little luxury.
She sat on her bed and prayed. "Please Lord. Let me pass this final part. I can't go through with it all over again."
A year ago, she'd ripped the envelope with the same ACCA logo without hesitation.
Seeing the word 'FAILED', her face blanched. A whole year of her life was branded in that one word – FAILED. Being an accountancy student in a private College, it wasn't hard to quantify exactly how much of her father's hard-earned cash she'd wasted.
In despair she leaved through her address book, searching for a friend to call. She needed to hear a comforting voice. Not even one name jumped out.
Crushed, she crept into bed, clung to her dog-eared little bible and wept herself to sleep.
It was back to college thereafter, another long year of concentrating only on her studies. No boyfriends, no outings to theatres and plays, no concerts and certainly no more parties. She was determined to keep her nose to the grindstone this time round.
To reduce her expenditure, she'd started bringing packed lunches to college, sitting in the back of a classroom eating while going through her notes. A new boy in her class also began staying back in the classroom during lunch.
The only thing they seemed to have in common was packed lunches. One day, he broke the ice by offering her something which looked like a yellow golf ball.
'It's a Punjabi dessert made from lentils…laddu it's called,' he explained, his face gently turning a little pink.
She accepted it and smiled to save his embarrassment. 'Let's swap,' she said, handing him a bright green marble-sized hairy ball on a piece of tissue.
'Mine's called an ondeh-ondeh.'
He raised his eyebrows, making them disappear under his blue turban.
'It's just a pastry made from glutinous rice flour and the white fluffy bits are shredded coconut. Just pop the whole thing into your mouth. Trust me.'
He shook his head from side to side, following her instructions and as he munched, a smile spread across his face. 'Mmmm…it's got …,' he mumbled, unable to articulate clearly – glutinous desserts tends to do that.
She laughed, saying, 'It's filled with Gula Melaka, which is coconut palm sugar. Nice huh?'
She laughed again and gingerly bit into the laddu, 'Mmmm…yours is nice too. Not too sweet and I suppose it's healthy, being made from lentils.'
'Right, since you like mine, how about you take my other laddu and I'll have both of yours,' his face broke out in a cheeky grin. Then they both laughed out loud. He was only joking.
From that first exchange, they became constant lunch companions until classes ended three weeks before the exams. From then on intensive homebound revisions were the order.
Both were studying like mad to try and pass this final step on their way to becoming fully fledged accountants. The lunch pact though continued through
Whatsapp messages. Typically, he would send a photo of what his mum had cooked for him that day. Laid out on a stainless steel round plate called a Thali, it contained mini crucibles of rice, vegetables, sauces and meats.
Her photo, in reply, would always be a bowl of noodles, some cabbage and a slice of pork luncheon meat, sometimes with a fried egg on top.
He would explain each dish in detail and the taste of each, as he imitated Greg Wallace in Masterchef. She would imitate TV Chef Ching He Hwang, explaining every step of how the noodles were cooked.
For about 10 minutes every day, they would allow themselves a good laugh, forgetting about the stresses of their isolation, their studies and the imminent exams.
She sat on her bed, looking down at the envelope. Then finally, in a moment of courage, she ripped it open. The word she hoped to see jumped out at her.
She grabbed her phone and took a photo, thinking of sending it to him. Then she hesitated.
What if he didn't get through? Maybe I should wait for him to send me a photo before I share mine, she thought. She waited till evening. Nothing. Maybe he was thinking the same…
As a newly qualified accountant, she soon secured a good job in one of the Big 4s in London.
She also began to love going to Indian Restaurants, remembering all the dishes he used to eat. Instant noodles were no longer her staple diet.
Life was much better now and in time she forgot about him…until April 2020, when Britain went into lock-down and people were told to self isolate.
That triggered her and she smiled, remembering an earlier lockdown, self-isolation and Bhupinder Singh's laddu.