Oxcombe's Christmas Artisan Market taking place next weekend
​​Lincolnshire artisans will bringing their wares to Oxcombe this weekend to showcase their talents in time for residents to begin their Christmas shopping.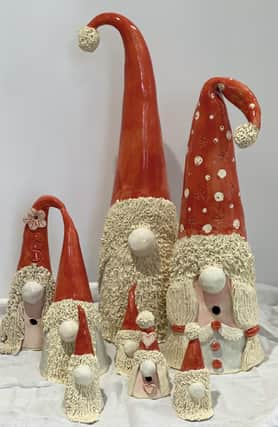 Oxcombe's inaugural Christmas Artisan Market will be taking place on Sunday November 26, and promises to bring an array of handmade crafts, including jewellery, textiles, leatherwork, candles, wood turning and upcycling plus fine art, cards and ceramics, natural beauty and honey products.
Refreshments will be provided from Sweet Success and Gourmazin vintage food truck, with non-alcoholic spiced hot apple toddies served from the Oxcombe horsebox.
All craft stalls will be inside Oxcombe's large, converted barn studios, and a hands-on wet-felting workshop will run to give everyone the chance to try their hand at making a festive Christmas decoration to take away (cost £3, suitable for children and adults).
Oxcombe church will be transformed by a contemporary art installation created by local artist Sophie Dickinson, who recently graduated with First Class honours from Manchester Metropolitan University.
The new Oxcombe Range of ceramics created by resident potter Sophie Olivant will also be on sale.
The Oxcombe Christmas Artisan Market will run from 10am to 3pm. Admission to the event costs £1.50 per person, under 18s go free.
For more information, and any further details about Oxcombe and this event, visit www.oxcombepottery.co.uk or phone 01507 534238.