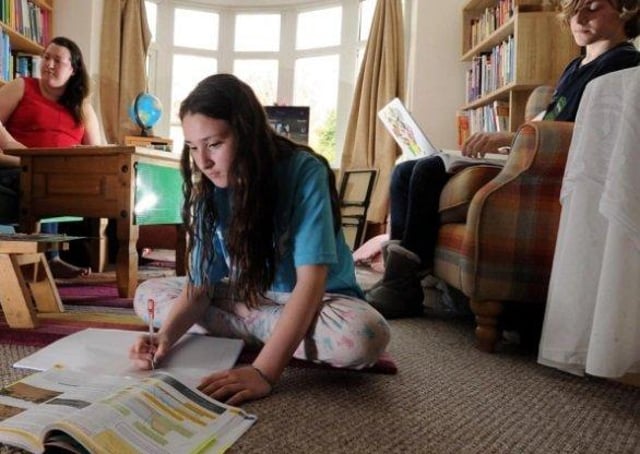 Privacy is not always possible when it comes to online schooling at home.
However, there's nothing normal about the current situation.
He might be a software designer by trade but you are more like to find him practising his alphabet, or counting up to six.
The two times table will come later.
All is calm - Mother and daughter tackle a home schooling lesson - but do things always go to plan?
As for algebra or the history of Roman Britain...they can wait.
Gavin has a four-year- old son (*Adam).
He and his wife *Rebecca are among the millions of parents grappling with homeschooling.
Gavin is used to working from home - he's done it for the last few years.
As a key worker, Rebecca is called into work a couple of times a week.
Teaching a four-year-old the rudiments of maths and English (Adam is learning how to write the letter 'R' as we speak) is a challenge - for all three of them.
Gavin explains: "Adam only started at school last summer and he settled in really well.
"He loved it. He made some new friends and got to know the teachers.
"But since then it has been pretty much stop-start because of the restrictions and lockdowns.
"In fact, we still haven't been able to see him actually inside the school."
Rebecca admits they have 'good and bad days' and both parents are concerned about their son developing 'life' skills, as well learning the all-important basics.
They do not blame the school who, they stress in unison, has been 'absolutely fantastic.'
A well-planned daily routine - and plenty of support from teachers - is key.
Teachers set Adam at least two work tasks a day.
Some involve reading, writing and addition, other tasks call for more creative skills - "a bit of Blue Peter helps" says Gavin laughing.
The daily routine includes time for exercise and talking to friends and family.
Gavin says: "At least once a week, the school has a video session where all his classmates get together.
"If it's someone's birthday they have a sing-a-long.
"He also knows friends' children who are his age and it helps talking to them.
"He's more than happy on an iPad.
"In fact, he's already better than his grandparents!"
Gavin and Rebecca admit they are luckier than most in that they are both at home for the majority of days.
Gavin adds: "I don't know how some people manage, especially if they are working from home and have two or three kids and only one laptop.
"We are lucky. When we think we're having a difficult day, we just think of how others are trying to manage."
As for their respect of teachers, the couple admit they wonder how they aren't all alcoholics!
Gavin admits Adam has shown recent signs of missing school life.
He adds: "It was really difficult at the start of this term when he went back for just a day - and then the school shut.
"The Government could definitely have handled it better.
"Children Adam's age are too young to understand what's happening.
"One minute, he's running around the playground with all his mates and the next he's told he can't go to school and see them.
"There were a few tears and most of our friends say the same.
"Generally,though, he's happy and we can't complain.
"I'm just glad he's at primary school - and not a teenager!"
*Steph, a mother of two secondary school-age daughters is not so fortunate.
A single mum, she was made redundant during the first lockdown but now has a part-time job.
She relies on a 'support bubble' of her grandparents to help.
Steph admits: "We're into our third week now and no-one has been strangled so we must be doing something right!
"We've only got one laptop and mobile phone signal isn't great where we live."
Steph admits the computer issue does lead to squabbles but says the school is understanding and doing everything it can to help.
She adds: "Some days, the girls have lessons at the same time.
"We are hoping to get another laptop soon and that will be a big help.
"The grandparents are also a big help - although they are not really tech savvy."
Steph admits she is worried her eldest daughter, in particular, is missing out.
She should have taken her GCSE's this year and wants to go on to further education.
Like everyone else, the family is in the dark about what system will be in place.
Steph explains: "She wants to go on to sixth form or college and knows how important this year is.
"She is working hard and the school sets everything for her.
"The teachers are supportive but it (home schooling) isn't the same as actual lessons."
And, what about when it comes to help with certain subjects?
"I try the best I can," says Steph, "but it's 20 years since I was at school and things have changed since then.
"I haven't even heard of some of the subjects these days - never mind understand them!
"Sometimes, I just look at what's on the screen, scratch my head and tell them I've got to prepare tea!"
Steph admits both daughters miss their friends.
She adds: "The older one has a boyfriend but they haven't seen each other since the turn of the year.
"They talk on the phone but it's not the same.
"I suppose I don't have to worry about her coming home after ten at night now!
"My other daughter is younger and she was into all kinds of different groups which are now cancelled.
"She keeps in touch the best she can and I try my best to make sure they're locked in their bedrooms for hours on end.
"They often complain they are bored but what can you do?
"If I suggest a board game, they just turn their noses up.
"Mind you, one of my best friends has got four kids at home - from ages 6-17
"God knows how she copes."
It's not just parents who are under pressure.
Teachers also feeling the strain from the added burden of online teaching.
*Kathy is a teacher at a secondary school and admits lockdown has been very challenging.
She explains: "Some days, we can have more than 30 students in the same lesson online and it is difficult making sure everyone is taking things in.
"The sessions have a chat facility although we make sure the microphones are turned off at various times.
"Most of the students are really good and want to learn but, as ever, there's always that minority.
"We had one who swore in a lesson last week when he forgot the microphone was switched on.
"We didn't let him contribute to the rest of the lesson but you can hardly put them in detention."
Cathy says the systems for online teaching have improved since the first lockdown.
Teachers still have to set the actual work - and make sure it's done.
They also give invaluable feedback to students and are available to deal with any problems.
She adds: "While we're not actually in school, it can still be a long day.
"I'm fortunate in that I've got a great head(teacher) who is really helpful and understanding because I've got a young child at home.
"I do miss the staff room though.
"If you had a bad lesson, there was always a colleague to talk to.
"Now, we do talk but it's not face-to-face and it is not the same.
"It is very easy to feel isolated."
*Sue, another secondary school teacher, says she is worried about what will replace GCSE's and A-Levels.
She says: "Everyone is in the dark but it looks like there might be some form of in-school exam with teachers acting as moderators.
"I hope there's some training for us.
"It was the same with the start of home schooling.
"We had a couple of days' notice and then it was - right, off you go!
"It was very much a case of learning on the job.
"Some of my colleagues have actually taken courses (in their own time) about online working."
"This time around, we're generally better prepared."
Sue points out there are usually two teachers - or members of support staff - involved in most online lessons.
An added issue is that lessons involve students with wide ranging abilities and - at times - different age groups.
Some days, she has to go into school although it depends on how many children of key workers attend.
She adds: "Closing schools was definitely the right decision. It wasn't safe but getting back to something like normal can't come quickly enough and yes, even playground duty!"
•Editor's note: Some of the names of people who contributed to this article have been changed, at their request.