Patient's daughter from Skegness speaks of shock at discovering hospital mixup and another woman in her mum's bed
The daughter of a woman who believed her mum had been discharged from hospital has spoken of her shock at finding another woman sleeping in her mother's bed in Skegness.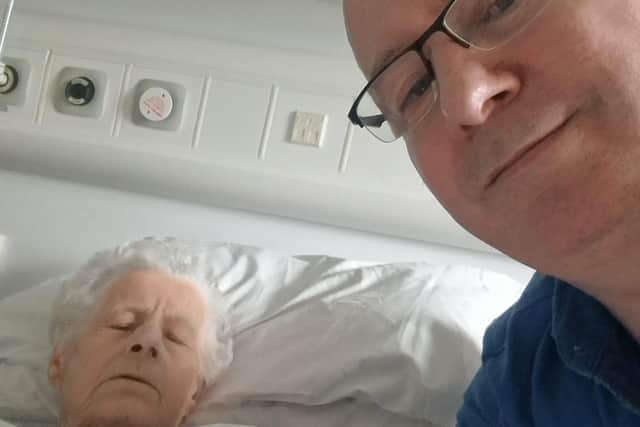 United Lincolnshire Hospitals Triust has apologised for the mixup which saw 83-year-old paliative care cancer patient Joyce Wright discharged from Pilgrim Hospital in Boston in the middle of the night and taken to a stranger's home.
The mistake was not discovered until the next day when the patient who should have been discharged called her daughter rather 'confused' .
In an interview with BBC Look North the daughter, who close not to speak on camera, said she let herself into her mum's bungalow and found another woman asleep in her mum's bed.
That stranger was Joyce Wright.
The daughter said she didn't want to disturb her or upset her in any way so she crept outside, went back to her car and phoned the hospital.
Mr Wright told Lincolnshire World an ambulance crew was on its way to collect his mother at that point and thanked the other patient's daughter for informing the hospital in the way she did.
Widow Joyce Wright, of Sleaford, is currently receiving care at Johnson Community Hospital in Spalding following the ordeal, which began following a fall last Monday when she was admitted to Pilgrim Hospital in Boston.
Her son, Andy Wright, told Lincolnshire World his mother was now recovering back in Spalding after being readmitted to Pilgrim Hospital over the weekend due to concerns her health was failing.
"We were a bit worried about her at the weekend but she is back at Spalding and has told me she likes it there and seems to be recovering so that's a relief," he said. "Fortunately I work at Spalding so I'm close by to visit her."
As previously reported in Lincolnshire World, United Lincolnshire Hospitals NHS Trust and East Midlands Ambulance Service (EMAS) have launched an investigation into the incident which took place during last Tuesday night.
Mr Wright, described how he, too, had heard about the mixup by telephone. "I got a call from EMAS to say they had got my mum and were taking her back to hospital," he said.
"I tried to call my mum but couldn't though and then eventually got a text from her telling me she had spent the night in a stranger's bed in Skegness.
"In spite of her ordeal, she did see the funny side and said she wished it had happened the week before when the weather was good – and that the bed was comfy."
In a joint statement, Michelle Harris, chief operating officer at United Lincolnshire Hospitals NHS Trust, and Joy Weldin, divisional director of non-emergency patient transport services at EMAS, offered their "heartfelt and sincere apologies".
They said: "We have spoken with both patients and their families to offer our heartfelt and sincere apologies.
"This incident clearly falls below the standard of care we want to deliver, and a full review is underway to ensure it does not happen again.
"When the review is complete, in line with Duty of Candour, we will share the findings with the patients and their families."