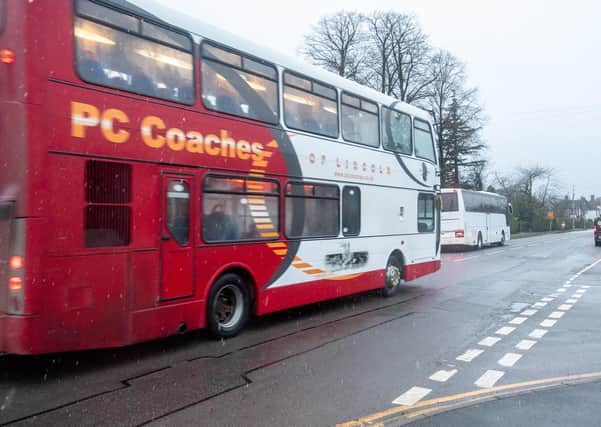 More than 100 parents have already signed the petition, launched by Dominic Hinkins who is also a town councillor.
He said he was responding to requests by parents and guardians of children.
Coun Hinkins said: "There is no safe pedestrian crossing for children in this location (Louth Road) and the 40mph speed limit is located too close to the school zone, meaning vehicles accelerate towards it.
"We (people signing the petition) are calling on the county council to implement a zebra, pelican or toucan crossing near to the school - and to extend the 30mph (limit) beyond Low Toynton Road."
Coun Hinkins explains in his petition that residents have been campaigning for a crossing for many years.
He adds: "Greater safety for primary school children in Horncastle has been a stated priority for parents, school heads and the town council for a considerable time.
"Responses from the county council in the past have indicated that there is no money for these changes and/or there is no 'suitable location' for the crossing on Louth Road.
"We believe this is wrong and that no price can be put on the safety of Horncastle's school children.
"We demand Horncastle residents are listened to and the changes are implemented immediately."
More parents are using the Louth Road entrance to the school because of long-standing concerns about safety on Bowl Alley Lane - the main school entrance.
The school is also operating a Covid-19 scheme which involves using both entrances for different age groups.
One parent said: "Louth Road is dangerous and drivers need to slow down.
"Because of a speeding car, me and my daughter had to rush across the road and she slipped and fell - luckily on the pavement. It could have been a lot worse."
Another parent added: "I've two children at the school. I walk and collect the younger one every day, but the older one is almost 11 and she and her friends like to walk home on their own, but you worry every day"
Another parent told the News parents and children used the traffic island at a nearby roundabout to cross the road, but added: "Even that's not safe because not all the drivers stop - even though they can see people are trying to cross."
•The petition is available at: you.38degrees.org.uk/petitions/make-louth-road-safe-for-school-kids?