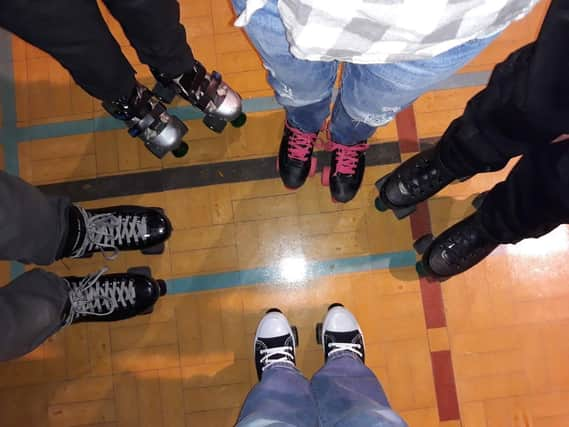 Boston College has ended the lease at the Peter Paine Sports Centre because it says the floor is being damaged for the other sports held at the venue.
Claire Humphreys and Tracey Watson, who both work in local primary schools, have been involved in running the popular weekly event for 10 and 20 years respectively.
In a post to the skaters on Facebook, the pair said; "So after teaching so many of you to skate and watching you grow in confidence, we are very sad to tell you that Boston College have decided that they will no longer be allowing roller skating at the Peter Paine Sports Centre.'
Speaking to the Boston Standard, Claire stated: "The College have informed us (by letter) that they resurfaced the hall in 2017 and have been advised that it has deteriorated due to skating.
"The hall floor has always been regularly resurfaced over previous years as and when needed while our skating session has taken place without any issue.
"Many of the now parents of the children that attend have great memories of going themselves as children and in their teens.
"Eric ran skating for years and years - anyone who skated there will remember him and his record player. He carried on skating every week until he was 82.
"In the time we've been involved we've had the pleasure of getting to know some wonderful families, made life-long friends, taught many children to skate and seen them flourish in not just skills but confidence too.
"Alongside skating we also introduced a selecting of circus skills for children to learn and practise, which also gave many children another 'string to their bow'.
"It really has been a pleasure to provide a healthy, family-friendly service to our town and we're so disappointed that our youngest son won't be able to learn to skate in the same environment we all have."
Victoria Haw also posted on Facebook: "Totally gutted. There are so few places for teenagers to go and have fun, and to meet new people.
"Skating has been great for our family. Having an older teen, younger teen and child with additional needs it's so hard to find family activities. Friday skating brought us together.
"For us adults we enjoyed remembering our youth and 'passing the baton' on to the next generation was a great feeling.
"Really hope a new venue can be found. I am sure many would complain if kids started skating on the streets."
Will Fletcher, who runs Will's Roller Disco on Saturdays, has also had his sessions stopped.
He says he feels he has been kept in the dark about the situation, and says he has raised the issue of the floor coating on a number of occasions in the past, with the college, but nothing had been done.
A spokesperson for Boston College said: "Boston College took over the Peter Paine Centre in 2013 and £1.3 million has since been spent to refurbish and upgrade its facilities for both student and continued community use.
"The floor was replaced in 2017 at a cost of £10k but within a very short time has become unsafe due to roller-skating activity.
"This is impacting on the experience of the public who also regularly use the hall for fitness and sports including football, badminton, netball, table tennis and yoga as well as for dance and drama activity, children's parties and many community and charity events.
"We are currently looking for the funds to resurface the hall floor.
" Based on professional advice, the College has had to make this very difficult decision to protect the safety of the wider community, benefiting and supporting the vast majority of centre-users.
"Indeed, if we are not able to resurface the floor it is even more important that it is protected against further damage, which could leave the hall unusable by anyone.
"We believe this is only fair especially during such challenging times when health and fitness is so important.
"We are more than happy to work with the group to look at alternative approaches to support roller-skating, once it can restart after the pandemic."
Coun Stephen Woodliffe, who represents the West ward which includes Peter Paine, told the Boston Standard: "I have discussed the issue with Boston College and now appreciate the dilemma facing the College.
"It is clear to me that the College wants as many clubs and societies to continue to enjoy using the Peter Paine Leisure Centre facilities, but I think we all appreciate that current health and safety legislation requires that facilities used by the public must be maintained to a much more rigorous standard than, say, four decades ago when the roller skating club started using the Peter Paine Leisure Centre.
"So, whilst I have sympathy with the circumstances facing the Peter Paine Roller Skating Club, given the information that has been shared with me, I feel I must support the decision taken by Boston College in this matter."