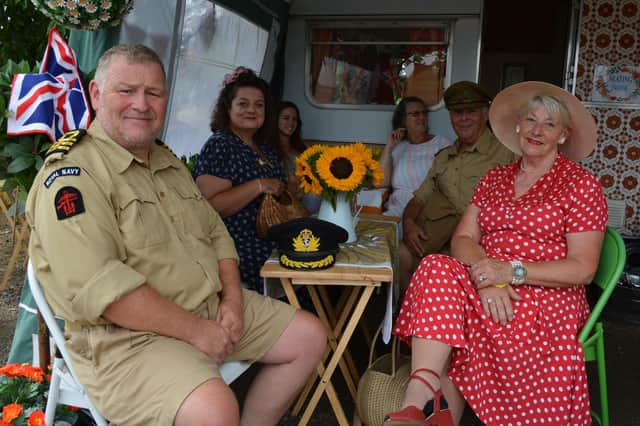 Tea time 1940s style Photo: Dianne Tuckett
Organisers Heather Barratt and John Haywood brought their organisational expertise and knowledge of all things 1940s for the first three-day event of its kind in Market Rasen.
Vintage clothing and vehicles from the homefront and those at war filled the area, with a host of displays.
Musical entertainment and a wide selection of food added to the event.
Helping people get that 1940s look was Sandra from Bird Dog WW2 Living History Group Photo: Dianne Tuckett
May Blossom, Vintage Songbird Photo: Dianne Tuckett
Members of Market Rasen ATC 2292 Sq ran a tombola Photo: Dianne Tuckett
Members of the Notts & Derby Living History Group; Lincolnshire Regiment Living History Group and the Lincolnshire Military Vehicles Group Photo: Dianne Tuckett
Vintage cars and vintage clothes were the order of the day Photo: David Mason
The field hospital in action with Julie Chandler and Caroline Green Photo: Dianne Tuckett
Organiser Heather Barratt on the ukulele with the Market Rasen group Photo: Dianne Tuckett
May Blossom, Vintage Songbird Photo: Dianne Tuckett
Enjoying the entertainment
On duty! Photo: Dianne Tuckett
Vintage clothes and vintage cars Photo: Dianne Tuckett
Market Rasen Ukulele Band entertained Photo: Dianne Tuckett
Julie Green and Alan Parkes Photo: Dianne Tuckett
How we used to live Photo: Dianne Tuckett
One of the displays Photo: Dianne Tuckett