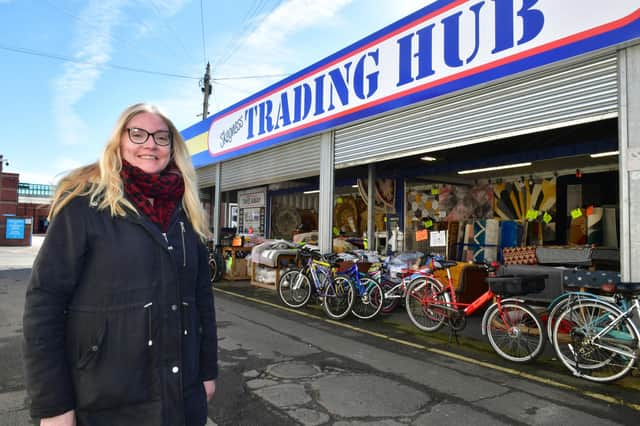 PICTURES: New era for Skegness market as traders say, 'Come and join us'
Skegness market traders say there is still a bargain to be had – they just need more customers and people like them prepared to give it a try.
Published 12th Mar 2023, 10:14 GMT
The endorsement comes at the start of a new era for the market following recent investment by owners PLR Leisure, which has seen new facias, shutters put on the units to make them more secure – and a new name.
No-one is denying that shopping habits have changed since the bustling open air market of the 1960s – but the owners hope the rebranding to Skegness Trading Hub will reflect their willingness to move with the times and offer more.
"A lot money has been spent improving the market over the past three years, ready for the rebranding," said market manager Kathryn Jones speaking on Saturday at the Briar Way site on completion of the rebranding.
"We are moving away from the traditional market with stalls to individual units that are perfect for new start-ups to established businesses wanting to relocate to the seaside.
"Online shopping has made being in the retail industry increasingly difficult, as many small retailers cannot compete with the discount prices.
"Skegness Trading Hub is hoping that with competitive rental prices and its central location more people will want to trade here.
"We'd love to see some niche businesses here and make it somewhere where people can find something a bit different to the other things you'd expect to find in a seaside shop."
Not that the history of the market isn't something they remain proud of.
Skegness Market was first opened in the 1960s by a well-known local character Fred Nicholls.
A tall, distinguished figure with a white goatee beard and trilby hat, he could often be seen walking around town with a miniature pony pulling a floral painted trailer adorned with signs advertising Skegness Market.
When Fred retired in the 1980s and emigrated to Australia, he sold it to Fantasy Island creator John Woodward .PLR Leisure bought it from the next owner, Gordon Hawkins, in 2003 when it was still open air, but they put a roof on it to make it an indoor market.
Currently seven units have tenants and 22 are ready for new traders to move into.
Sadly one of the longest-serving tenants, rug Spud Taylor, who was there from the start died earlier this year.
However, his stall which stretches the length of one side has been taken over by Ray Todd.
"It's good to see the owners investing in the market," he said. "It used to be really busy and I've seen a lot of changes but there is still a bargain to be had."
Sonya Newton and Ian Goodman, who run a jewellery and novelties unit called Nala's Den, firmly believe the market can be bustling again.
"I can remember coming when I was a little girl and seeing all the teddies lined up along the front," said Sonya.
"They were such happy memories. That's what we want to see again.
"We've been here about 15 months and are getting regulars now. We just need more footfall."