The Pirates of the Caribbean actor arrived by helicopter, which landed next to The Guardroom, one of the four centre's at the site at Caenby Corner Estate, Hemswell Cliff, at around 4.30pm on Friday, March 3.
Laura Hill, marketing manager, said: "Johnny shopped throughout our four buildings, the largest centre in Europe.
"He flew out at 9.30pm. He didn't want to leave but had to due to flight times.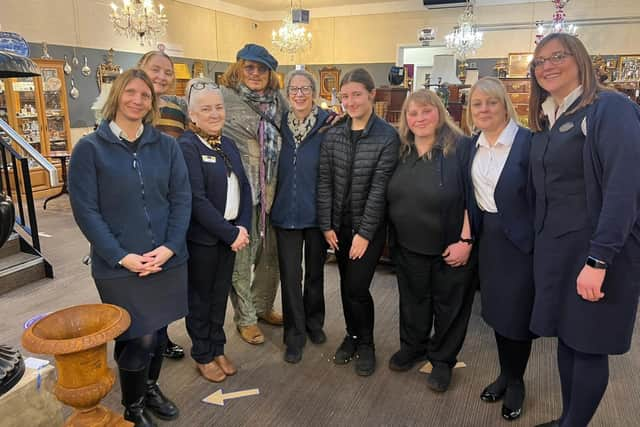 "He purchased many quirky items as well as some pieces of furniture for his own home in London.
"He also purchased some great guitars, where we have a huge collection.
"We were all very shocked as we didn't know he was coming.
"We close at 5pm so the customers who were there at the time were asked to leave 15 minutes early.
"But it was a lovely surprise and brightened up those who were there's Friday afternoon, that's for sure."
Owner of the site, Rob Miller, told BBC News: "He was purchasing items which came from an era that he would have liked to have lived in.
"We had a phone call to say somebody was going to be landing in their helicopter, and I wasn't allowed to say to any of the staff who it was.
"It came through a contact that we have at Pinewood Studios, who we have been working with for about five years, and is a good friend of his.
"He [Depp] said he always said he wanted to come for himself.
"He was purchasing items which were in an era that he said he would have liked to have lived in.
"He was an unbelievable guy to meet really, he was so natural.
"It was just great because he was allowed the freedom of being able to walk around without being hounded.
"He was very natural, very down to earth.
"It was a great atmosphere."
Following the visit a post on the Hemswell Antique Centres Facebook page said: "Hollywood meets Hemswell.
"Starstruck staff can't quite believe who walks through the door.
"As a secret operation is revealed within the last half hour of their working day."