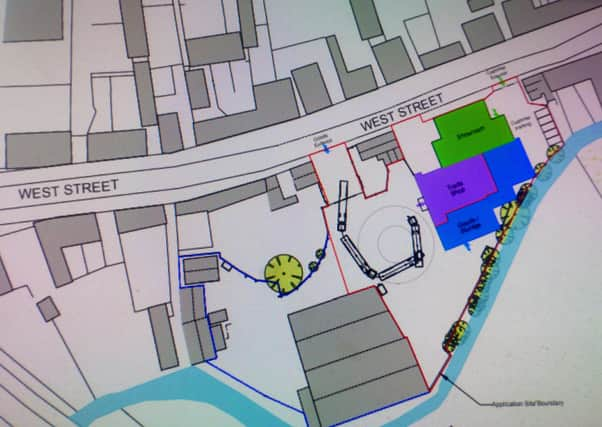 Agricultural and Horticultural merchants JT Friskney - based in West Street - traded in the town for more than 100 years.
However, the business closed in September 2019 when managing director Eric Young retired - at the age of 90!
Since then, the site has been linked with a number of potential uses - including a new supermarket and housing.
However, Sleaford based builder's merchant Turnbull and Co have submitted plans to East Lindsey District Council for a new outlet that would feature a showroom, trade shop and warehousing.
The company has eight trading sites across the East Midlands including Boston, Spalding, Newark and Brigg.
It has been trading for more than 125 years and employs more than 200 staff.
In 2019, the company invested £1m in new premises in Lincoln.
A design and access statement, sent to planners at ELDC, says the proposals for West Street would only involve minor alterations.
The statement adds: "The proposal involves breaking out various internal walls to enlarge the existing showroom and office facilities, 'building up' the existing canopy area on the front of the property in order to extend the existing showroom and balance/improve the principal elevation.
"Internally, the works also include construction of a new partition wall to divide the existing workshop and in order to create the new trade shop and warehouse spaces."
Changes are planned for many of the existing timber windows (to be replaced in uPVC) and the replacement of cladding on the existing current office and showroom buildings."
The statement goes on to say that while the site is in a conservation area, the actual building has 'no particular merit in itself.'
It adds: "The proposed development on this occasion has very minimal impact upon the location/layout of the host property, as most of the alterations are internal, with the exception of the works relating to the canopy area on the front of the property."
The document states the changes to the showroom and various doors and windows have been carefully designed to reflect the styles of the existing property
The statement adds that the changes will not have a negative impact on the street-scene of the conservation area setting.
Existing entry and exit points would be retained for the showroom, trade shop and warehouse/trade facility.
At this stage, there are no details about whether any new jobs will be created - if planners give the go-ahead.
The statement also stresses Turnbull and Co are keen to retain the excellent relationship Friskney enjoyed with owners of nearby properties who might be concerned about noise from deliveries.
The News understands at least one major supermarket chain did look at the site.
However, sources say that concerns about adding to congestion on West Street meant they did not follow up any initial interest.