Plaque unveiled to mark Gainsborough firm's place in transport history
A plaque to record the historic significance of a former Gainsborough machinery manufacturer has been unveiled at Marshall's Yard by Gainsboroug's MP, Sir Edward Leigh.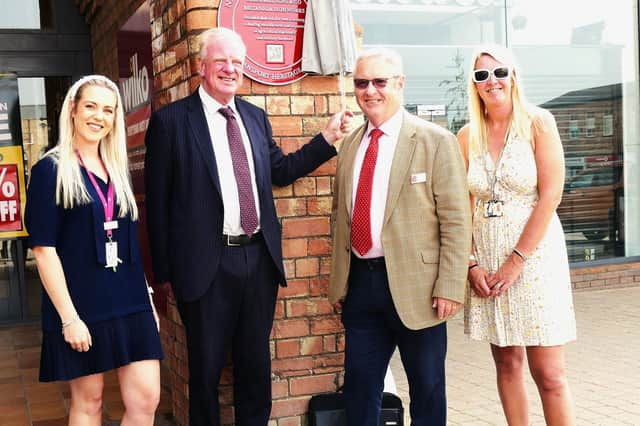 The National Transport Trust, with the agreement of Dransfield Properties, and working alongside West Lindsey District Council, has unveiled a 'Red Wheel' plaque to highlight the work of Marshall, Sons & Co and the place it holds in manufacturing history.
Marshall, Sons & Co, was primarily an agricultural machinery manufacturer founded in 1848 and based in the Britannia Iron Works, now Marshall's Yard.
The plaque is sited on what was once part of the Marshall Sons & Co's original building.
Jerry Swift, d eputy chairman of The National Transport Trust, said: "We have a register of sites we believe warrant a 'Red Wheel' and Marshall's Yard is very much one of these sites.
"Marshall's of course was such a significant player in the development and manufacture of traction engines and agricultural machinery, among other things, and we wanted to recognise this."
Sir Edward Leigh said: "It's wonderful to be here to unveil this plaque to commemorate the history of Gainsborough, which is intimately tied up with the Marshall family and the Britannia Iron Works.
"We've seen an amazing regeneration here at Marshall's Yard, so this plaque celebrates both the Iron Works and the regeneration."
West Lindsey District Council has been working with The National Transport Trust on the Marshall's Yard plaque, from the initially planning of its location right through to unveiling.
Wendy Osgodby, economic growth team leader at West Lindsey District Council, said: "It is wonderful to have a permanent record of the town's rich heritage and to see the significance of Marshall Sons and Co recognised in this way."
Melissa Cutforth, assistant centre manager at Marshall's Yard, said: "Marshall's Yard is a modern-day shopping centre serving the needs of the local community.
"However, we've never overlooked the site's important heritage and we hope our visitors continue to celebrate and learn about this through the various tributes we've proudly made throughout the centre."