Poisoned pen comments to caring Rasen couple
A Middle Rasen couple helping vulnerable people say they have been left shocked and upset by comments claiming they are breaking Covid-19 rules.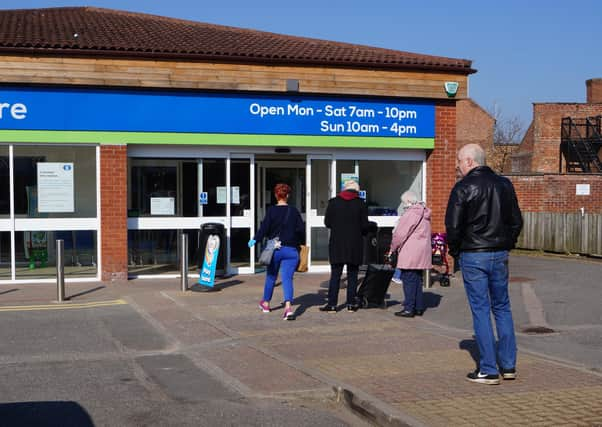 Caroline and Tony Trevor are busy people at the best of times, but with the coronavirus taking hold, they are doing their best to support those who need extra help.
However, Tony says their actions have been criticised in a poisoned pen letter, which 'threatens' to expose them for their 'wanton ways'.
Tony said: "We are out and about quite a lot. We are not joy riding, we are trying to help people.
"We have an 87-year-old relative who has early onset dementia, and we have to attend to her needs.
"Her closest family live 150 miles away and her GP daughter wants us to visit, for obvious reasons.
"We have a 93-year-old friend who we take shopping to and our son is now 'locked down' too because he is an asthma sufferer."
After receiving the letter, Tony contacted the police, who, he says, were 'happy' with the things they are doing.
Another Middle Rasen resident, who didn't wish to be named, said she had also received comments when out shopping.
She said: "I had someone make a comment to me about the amount of shopping I came out of Tesco with for two people...I had three lists, ours, my mum's and a neighbour who has no family.
"There are many people, like me and the Trevors who are shopping for more than ourselves, checking on those who are over 70, which are many or those who are 'shielded'.
"We are just trying to do our bit to help."
That help has been praised by Market Rasen Action Group chairman Julie Lambie who said everyone needs to show some care for those living in their community.
She said: "It is heartbreaking to think the good deeds of someone helping their neighbours has got this reaction.
"The government has said to check on neighbours and this can be done within the social distancing guidelines - knock on the window, pick up the phone and give them a call.
"The community needs to come together - with all the thousands of residents in this area, MRAG can't do it all, we need people to be good neighbours.
"This a frightening time and people, especially the old and vulnerable, need people they know and trust.
"If you can't be a friendly neighbour, then it is very sad for society.
"However, MRAG and other volunteers are here for those who do need the help.
"Sadly, the system has been abused by some who clearly don't need us, but just using us as a convenience.
"We will never not help someone, but we are mainly there for those who are in the vulnerable categories."
• Anyone who needs help with shopping or collecting prescriptions etc, can call MRAG on 01673 844848 or 07853 216461.
For those in financial hardship at this time, one off grants for paying essential bills etc are available from the Market Rasen Eleemosynary Charity.
The Market Rasen New Life Church and the town's Salvation Army centre both have food banks for those in need.
Contact 01673 849941 (MRNLC) or 01673 842859 (SA) for more information.
Donations to the food banks can be made at the town's supermarkets or direct; donations can also be made via Paypal to MRAG by contacting them for details.