The black and white pony was rescued from Gainsborough in January 2022 after he was spotted wandering around the site for a few days and concerned staff alerted equine welfare charity Bransby Horses to see what could be done.
An abandonment noticed was served and when no one claimed him, Bransby Horses were able to take him in and start him on a rehabilitation programme.
Nine months later he has started a new life in a foster home where he is providing companionship to an older horse with one of the charity's supporters.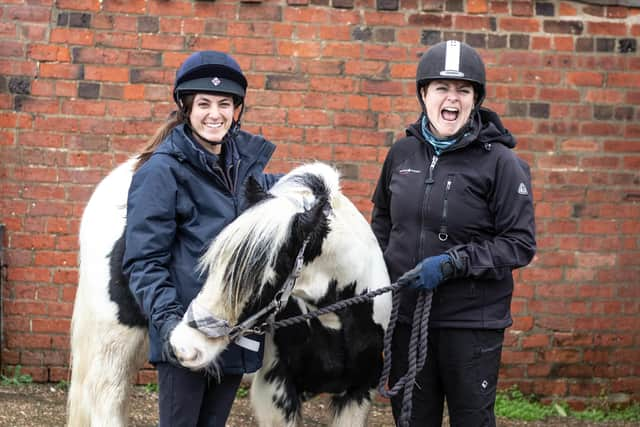 Stig's handler at Bransby Horses, Natalia De Benedictis, said: "From the day we started handling and training Stig he was amazing. He never said no or proved difficult, he's such a lovely pony that deserves to be loved and cared for."
Stig's foster carer Victoria Hotchkin collected Stig from the charity's site in Bransby and says he has settled in well with her older horse Cyril.
She said: "I applied to foster a horse from Bransby Horses after my old mare had to be put to sleep. When they rang me and said they had the perfect pony for us I couldn't believe it.
"We had three dates with Stig, so we could get to know him and be sure he was right for us and we were right for him. It was love at first sight really. I just thought what a cute little pony.
"He will have a home for life with us and I feel so lucky to be able to give him a new start where he will be pampered and loved forever."
Stig and Cyril live on land behind Victoria's house so she is able to see them from her kitchen window.
She said: "I just love the peace and tranquillity of being with horses. They are such majestic creatures and I think it's a privilege to have them in my life."
Bransby Horses Perfect Partner Rehoming Scheme offers some of their rescued animals the chance to enjoy life in a carefully selected loan home, freeing up time and space at the charity for the rescue and rehabilitation of others.
For more about Bransby Horses visit www.BransbyHorses.co.uk.