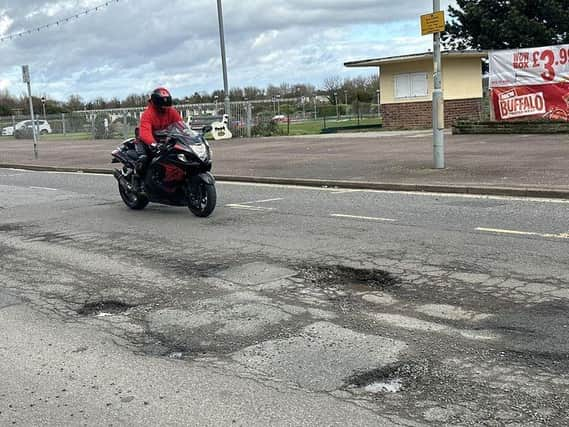 The town's Honoured Citizen John Byford was walking along the seafront when he saw what he described as an accident waiting to happen – a pothole measuring six inches wide and eight inches deep.
He said it was one of many near KFC – and he just happened to be there as a motorcyclist approached.
Following a heated discussion on social media, the road was closed for an emergency repair that very evening.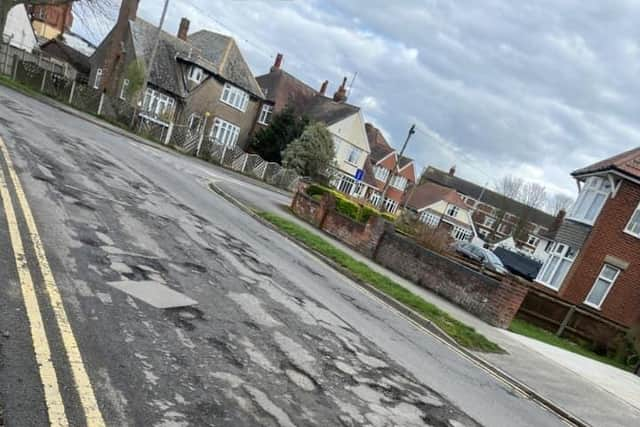 However Mr Byford said it shouldn't have had to resort to that for the repair to be made.
He said: "The town is going to pot.
"Potholes can cause serious injury to road users, particularly cyclists and motorcyclists.
"This pothole (one of many) outside KFC on the Skegness seafront was between six and eight inches deep, and that's deep enough to kill a biker!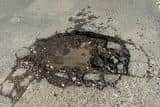 "As a former biker myself, I have grave concerns for safety of those on two wheels.
"The roads in Skegness are atrocious."
Earlier this month it was reported Lincolnshire has been awarded £6.8 million in Chancellor Jeremy Hunt's Spring Budget to fix the "curse of potholes", however officials at Lincolnshire County Council said that the money didn't go far enough.
Counr Richard Davies, LCC Executive Member for Highways, said "The money will be gratefully received for our county.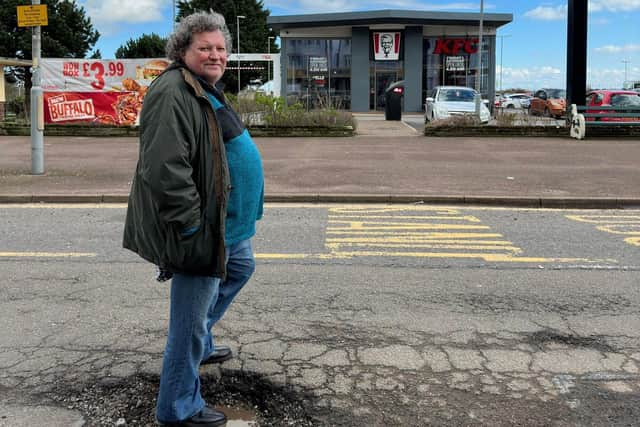 "However, in real world terms of rising material costs and the increasing stresses put on our 5,500 mile, mostly rural, roads network, this money is less than half that already removed year-on-year from our annual roads maintenance budget by the Govt.
"Whilst we will ensure that this Govt money announced in the budget will be put to the best possible use across the county for the people of Lincolnshire, we continue our call to Govt to fully reinstate the missing £12.3 million of the funds we need to keep our county moving as it should."
Many readers on social media agreed the pothole problem in the town is bad.
Deborah Sullivan said: "I'm a motorcycle enthusiast myself. The consequences of potholes like this are 'lethal'. Hardly an invite to a seaside resort."
One man went as far as to say: "I believe Skegness is the pot hole capital of LIncolnshire if not the country.
Louise Ann Sztuba said: " I'm on a mission whenever I'm on my motorbike to avoid them like no tomorrow.
"The main problem is when your out in the dark!, you can't see the potholes until you hit them."
Embassy Theatre operations manager Pollyanne Trapmore-Shaw also joined in the conversation. She added: "I hit that one a few days ago in the car - it really shook me up!"
However, a local county councilllor who said he regularly complains about the state of the roads had some good news: "The area highlighted, Grand Parade and the Clock Tower gyratory will be resurfaced in September.
"It was meant to be starting in March but due to the weather and the possible knock on affect it was decided to postpone it until then to avoid the Easter holidays.
"However, some remedial repairs have been requested as an interim."