Praise for newly-qualified RNLI inshore lifeboat helm and crew after dramatic rescue
A dramatic rescue at sea in which one of two fatigued body boarders fell below the waterline has earned a newly-qualifiied RNLI inshore lifeboat helm and his crew praised for saving their lives.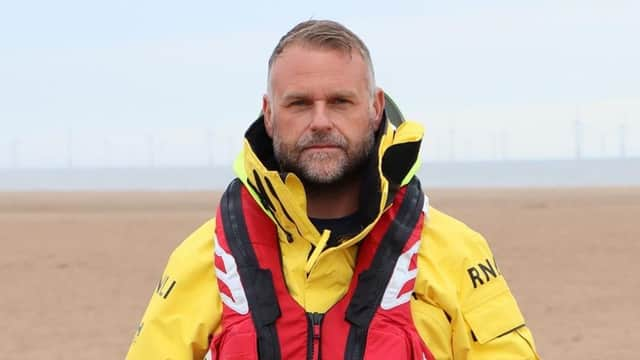 The casulaties had drifted 750 metres offshore on Saturday, July 1, at around 7pm when HM Coastguard alerted the RNLI Skegness.
They continued being pushed seaward on bodyboards due to strong westerly winds and choppy sea conditions in Ingoldmells.
Despite the challenging conditions, helm Martin Stokes and his crew, Craig Hopkins and Billy Brookes, responded rapidly, recovering the two casualties onto the D class inshore lifeboat (ILB).
Initially, a group of four people, two had managed to make it to shore while the other two were stranded at sea.
A statement from Skegness RNLI revealed that upon arrival, the two casualties had drifted approximately 100 meters apart, putting the casualties in more danger as their distance apart expanded.
It became clear to the crew that both casualties struggled due to fatigue and cold, only being kept afloat by holding onto their boards.
Stokes had to adjust the lifeboat's position to ensure the casualty who was falling below the waterline was swiftly recovered due to the deteriorating situation. His swift actions in adjusting the lifeboat's position meant he avoided committing a crew member to the water, making the casualty recovery more straightforward and quicker.
Martin Stokes, Helm, at RNLI Skegness, said: 'The importance of raising the alarm when seeing someone in distress cannot be understated as without the swift alarm raising by the member of the public, this may have been a different outcome. We all must play our part in keeping our coasts safe and alerting the authorities immediately if we see anyone in distress.'
Trevor Holland, Deputy Launch Authority, at RNLI Skegness, said: "The professionalism of Martin and his crew throughout the service launch was exceptional and highlighted the dedication and commitment of RNLI Skegness' volunteer crews to saving lives along the coast."
The lifeboat crew brought the casualties aboard and gave crusial casualty care, including administering oxygen. After receiving casualty care onboard the inshore lifeboat, both casualties were handed to the ambulance service and taken to the nearest hospital for further treatment.