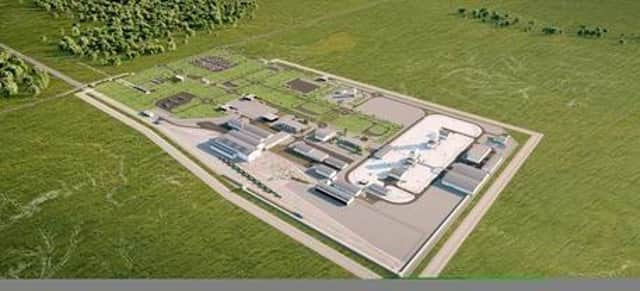 A company is exploring whether the former Theddlethorpe Gas Terminal could be used to store the waste underground.
They claim it would create 4,000 jobs, and safely store the radioactive material.
However the Guardians of the East Coast say that the long decision-making process will harm tourism in Mablethorpe.
Ken Smith, chair of the group, said: "A nuclear waste dump and a bucket-and-spade resort don't go well together either. For every job created there, one could be lost in the tourism industry.
"And investment won't come while the possibility of the nuclear waste is hanging over Theddlethorpe like the Sword of Damocles.
"It would be better that we found out either way sooner rather than later. The town will get more run down while a decision is dragging on."
He likened the long-running fight, which could take 10 to 15 years, to a "war of attrition".
The Theddlethorpe and Mablethorpe area is one of four areas in the UK being considered by Nuclear Waste Services.
If the site is chosen, the company will need to persuade local residents it would be a benefit before work could go ahead.
Ken said: "NWS claims it would create 4,000 jobs, but when that is spread over 25 years, it isn't as significant as it sounds – and they won't necessarily go to people from Mablethorpe.
"People in Theddlethorpe are quite strongly against the plans – a little less in Mablethorpe, where unemployment is more of a problem.
"Either way, it would cause huge disruption."
A recent questionnaire by the Theddlethorpe Residents Association found 80% of the 300 people who responded were against the plans.
Lincolnshire County Council's Environment and Economic Scrutiny Panel is due to be given an update on plans next week.
The council is part of a working group to study the implications of a disposal facility. However, any decision would be made through a Public Test of Support.
NWS siting director Simon Hughes said that the proposals would create long-term employment.
"The great majority of jobs that we need would not need to be brought in from elsewhere because the people are here who can grow into those roles," he said.
"There's absolutely no need to parachute people in from outside. This is a really long-term project and it it only succeeds if it continues to have a great relationship with people who live around it.
"I know that parachuting thousands of people to operate it would not build the sorts of relationship that we and and people who live around the site would want."
A report before the county council's Environment and Economy Scrutiny Committee next week will look at "the opportunity for major investment which could benefit the local area" created by proposals to use the site for a nuclear storage dump as well as other options for carbon capture and storage and/or hydrogen production.
The site is currently being considered by three major companies.
The Government's Nuclear Waste Services team is looking at using the site for a Geological Disposal Facility to help dispose of around 10percent of the UK's nuclear waste in a more secure location.
Meanwhile, Harbour Energy would like to install CO2 transportation infrastructure in the area linking the power heavy industries of Lincolnshire and Humber to the former Viking gas fields in their V Net Zero project.
Neptune Energy wants to create a carbon capture and storage site for the production of blue hydrogen. Their scheme is known as DelpHYnus.
Nuclear Waste Services recently released data which showed that up to 4,000 jobs could be created by the GDF, while Harbour Energy believes their investment across Greater Lincolnshire and the South Humber would create 6,000 jobs.
In the report before councillors next week, officers said: "It is clear that if a development takes place at the site then there will be substantial job, supply chain, and infrastructure investment opportunities.
"In particular, if job opportunities of the scale that is being stated occur then there will need to be a substantial education, training, and recruitment programme which is focused on technical and engineering skills."
They added that Theddlethorpe is "not the the only energy sector job creation taking place in and around Lincolnshire" with strong energy manufacturing sectors around Lincoln, the Humber energy cluster, and other major energy investment proposed in neighbouring counties.
"Currently the level of careers, education, and training in this context is probably not of the level to fill those jobs and officers are starting to explore what can be done to address this situation/opportunity," they said.
They said LCC would need to consider the employment options that the new developments present and examine how it supports pupils and the wider workforce.
However, councillors will be asked to note the report, but not make any decisions at this time.