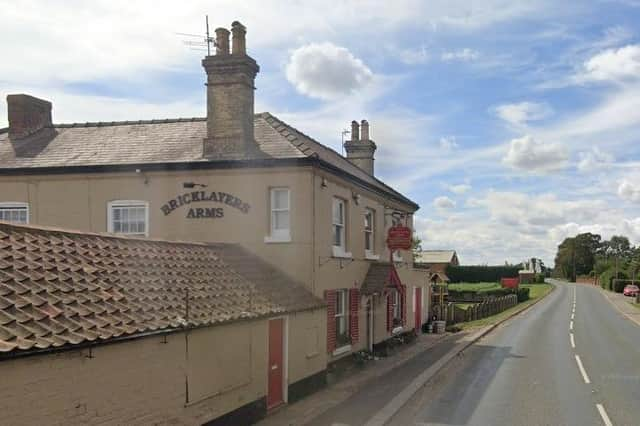 The Bricklayers Arms, in Old Leake, made the ban in the wake of criticism on social media.
On Sunday evening, Chloe Keal, 31, of Sibsey, posted on Facebook that a family visit there earlier that day had left her feeling 'shocked' and 'disappointed'.
After her baby son became 'more vocal', she said she was asked by the landlord to calm him down. This was followed by a suggestion of taking him outside the pub to calm him down there, if this could not be done, she said.
The post attracted a large number of comments of support for Chloe.
It also attracted a comment from The Bricklayers Arms' Facebook account, which defended the pub's position, saying it was acting out of consideration for other diners.
It included the line: "If Mums and Dads don't like it, then feel free to go elsewhere."
A separate post from The Bricklayers Arms would go further, with it announcing that the pub would no longer accept children under the age of 14 of the premises, except those already known to the pub.
This would go on to be deleted, though.
In a statement released today (Tuesday, January 24), landlord Richard Mumford told The Standard that 'first and foremost' he wanted to offer his 'since apologies' to the customer and their family for 'making them feel unwelcome' on Sunday.
"This was not my intention," he said.
"We have had The Bricklayers Arms for nearly 10 years now," he continued. "We wanted to make it a family-friendly pub for all age groups to enjoy, especially the outside garden area and kids play area with the bouncy castle in the holidays.
"We will strive to do the same going forward.
"I did not deal with the Facebook comments in a professional manner and the post regarding under 14s was made hastily in response to the negative comments towards the pub. Again, I apologise for these comments and the post that was removed.
"As I said above, we are open to all age groups and will do our best to make everyone feel valued and welcome."
Speaking to The Standard today, Chloe said the incident made her feel 'embarassed' and 'humiliated'.
She said the pub had contacted her directly to apologise and said this went 'someway to making amends'.
"After I made a suggestion to make a donation to a local children's charity the landlord has done so, so I appreciate the charitable donations he has made as a way of making amends and hope that in the future 'family friendly' will mean family friendly," she added.