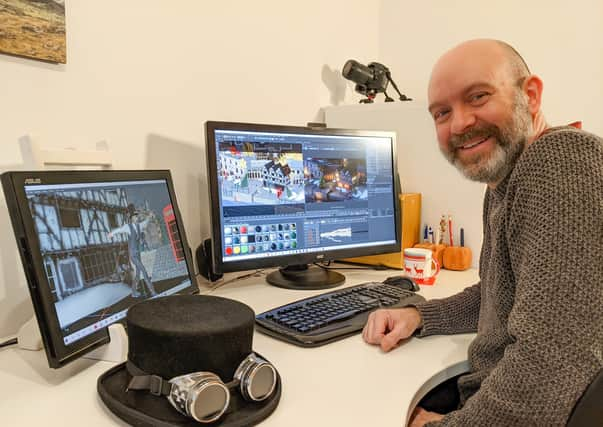 The animation, by Ashley Taylor (of Market Rasen based studio Push Creativity) features models of the city's landmarks and is designed to play on an infinite loop, with steampunk style cogs turning in the background.
Ashley even created a 3D version of himself to appear in the video, dancing on the cobbles in a steampunk hat.
The animation includes a lot of details for the eagle-eyed viewer, revealed Ashley: "There's a tribute to one of my favourite films, Home Alone, in there with a dummy dancing in a Lincoln Cathedral window, there are two swaying Lincoln Imps, as well as red post boxes and a golden post box too.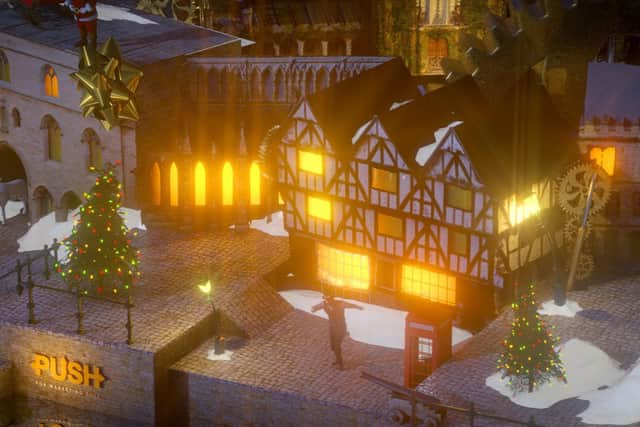 "There's even a Magna Carta flapping about somewhere near the castle."
Shared on social media at the beginning of the month, the animation is getting plenty of shares and retweets.
Ashley usually works on more commercial animations, explaining engineering concepts or newbuilds, but he is more than happy to use his talents to bring some Christmas cheer to Lincoln.
Landmarks shown include sections of the Cathedral, the Castle, Court House, High Bridge, the Tourist Information Office, the Exchequer Gate and the famous wonky lamppost of Steep Hill, which is swaying to the music.
Ashley said: "The lamppost was particularly challenging, as in an early render of the animation, the light in the lantern was moving out of sync with the post itself!"
Ashley created the Lincoln landmarks in 3D using a process called photogrammetry; a technique almost as old as photography itself, where lots of overlapping images are used to record reliable information about objects and the environment.
Photogrammetry has a lot of applications across many areas; it is often used to record archeological sites and objects or in creating special effects in films and video games.
For this animation, Ashley took around 30 photographs of each building from all angles, converting the photos into 3D models using software called MeshRoom.
Then he positioned the models together on the rotating cobbled landscape, adding more and more details as inspiration took him.
The complete animation was created using Cinema 4D software, and rendering each frame took about two weeks, with machines running overnight.
Ashley also used photogrammetry to scan himself into the animation; having to stand still for several minutes as 60 photographs were taken of him from all sides.
As for the dancing, that's not strictly Ashley in control, he's combined the model of him with a set of dance moves available for 3D character animation through an Abobe product called Mixamo.
Ash explained his choice of "moves": "I could have been doing the salsa, break dancing, moonwalking... there was a big choice of dance styles to apply to my 3D self, in the end I opted for a silly knees-up sort of dance, which is probably closest to my personality!
"My family find this bit hilarious, as they've never seen me dance in real life."