Rasen bank takes to the cobbles for mobile service
Market Rasen's new mobile bank service is a 'positive step' despite the town losing its last full time banking branch.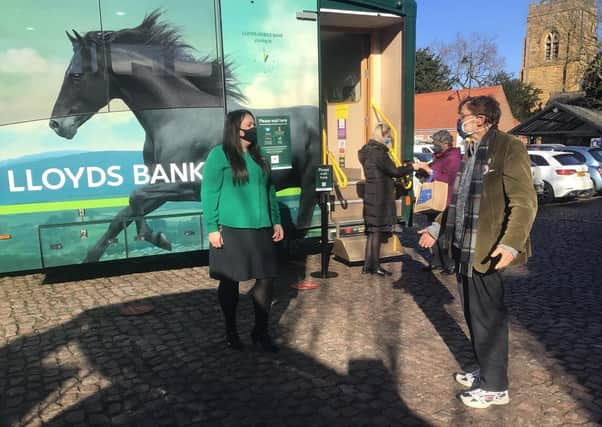 That is the view of Stephen Bunney chairman of the Town Partnership Group and deputy mayor as the Lloyds Bank mobile branch made its first visit to the town last Friday.
The branch itself will close its doors for the last time on March 15.
A Lloyds Bank spokesperson said: "We have made the difficult decision to close Market Rasen due to the changing ways customers choose to bank with us, which means the branch is being used less often.
"We are sorry for any inconvenience this may cause; customers can continue to bank locally by visiting the new mobile branch, or the nearby Post Office, which is less than half a mile from the branch."
As previously reported, the bank was scheduled for closure last year, but due to the ongoing pandemic the closure was postponed.
The mobile branch will visit the town every two weeks on a Friday and will be in the Market Place from 9.45am to 1pm.
The spokesman continued: "This new branch will provide a personal, face-to-face service to the local communities it visits, giving customers access to everyday banking services such as making deposits, withdrawing cash and paying bills.
"Our experienced colleagues will be on hand to help customers with online banking and general account and product enquiries."
On the mobile branch's first visit last Friday, staff from the Market Rasen branch were on hand to take customers over to the mobile unit and familiarise them with the facility – and Coun Bunney was also there to see how it worked.
He said: "While we are saddened to lose our last bank in the town, the mobile branch is a positive step for the town.
"As a council – and town partnership group – we feel it is important to maintain a service and to have that service in the centre of town.
"It needs to be easy to get to for residents within the town and for those using the buses from neighbouring villages."
The town council is providing a pitch on the market place for the mobile branch to work from for the coming year.
Coun Bunney continued: "It was good to see bank staff bringing customers over and explaining how things will work – and speaking to the customers, they all sounded very positive about the new service.
"It is important that this service remains accessible to as many people as possible.
"We also need to remember that we are served by a very good Post Office team in the town, which offers banking services for all the banks too."