Rasen greening project starts with bulb planting scheme
Last month the aim was to light up Market Rasen for Christmas, now it is to make the town bright for spring.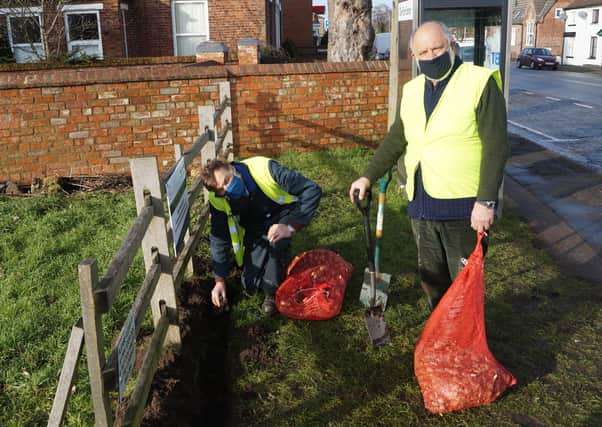 Around two and a half tons of daffodil bulbs have been donated by Market Rasen Rotary Club to plant within the community.
Getting the planting underway on Sunday were town councillors Stephen Bunney and Neil Taylor, who dug in to make a border of bulbs along the De Aston Field fence.
Mr Taylor is also a member of the Rotary Club and organised the bulb donation.
He said: "The Rotary Club is pleased to help brighten the environment for the community in this way.
"There are 40 bags of bulbs in all. Some have been given to Middle Rasen and 20 bags to Caistor."
Coun Bunney added: "Now we want to hear from the community about other sites that would be enhanced by some of the bulbs.
"Please contact me on 07506 188570 with any suggestions."
The bulbs are just the start of plans to improve the environment of De Aston Field.
Plans are in place to transform the town council-owned land.
Coun Bunney said: "When we [town council] purchased De Aston Field it was agreed to use it for adults and this is us delivering some of this pledge."
The field already has some outdoor gym equipment, which will remain, but exercise opportunities will be extended to include a track for people to walk or run on, and it will be wide enough for those in wheelchairs 
and with pushchairs .
Coun Bunney continued: "It is important to have some green space at this eastern side of town and to create a pleasant environment for people to exercise in.
"It will be a park, not a playground, with a seating 
area included.
"We have around 500 native tress to plant, which will take three or four years to substantiate, and we hope to 
get them all planted up before the summer - weather and Covid restrictions permitting."
This project is another joint initiative with the Rotary Club, under the guidance 
of tree expert Colin Horton.
The top area of the field, between the existing line of trees and the cemetery, will continue to be maintained 
as grassland.
As previously reported, this area is designated as an extension for the cemetery when it is required.