Rasen man sleeps out in bid to aid veterans
"They have done their service for the country and shouldn't now be out on the streets."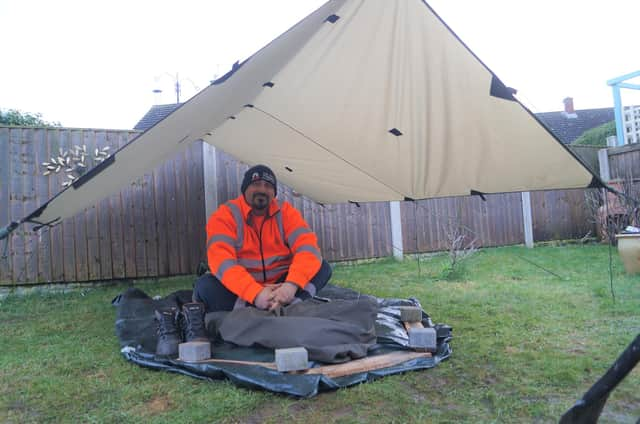 That is the view of a Market Rasen man who is sleeping outdoors in support of homeless veterans.
"The word veteran and homeless shouldn't be near each other, let alone in the same sentence – it makes me very uncomfortable," said Bryan.
"When I saw the sleep out challenge it really touched me and I thought this is something I can do to help, so I signed up."
The RBLI challenge is to sleep beneath the stars, for at least one night, to support the Armed Forces community. However, Bryan decided one night wouldn't be long enough.
He said: "Nobody would sponsor me for one night, so I went a little bit crazy and decided I would do up to 30 – as long as the donations were coming in.
"I started mid February, but now I am thinking about maybe continuing until the end of March."
Most nights are spent in his garden, but there is no luxury tent – just a ground sheet, tarp and bivvy bag, meaning he is at the mercy of the elements.
At weekends, nights are spent in an area of woodland, courtesy of the Little Bit of Lincolnshire shop in Lincoln's Steep Hill.
And Bryan says the cold-snap forecast isn't going to put him off: "Whatever the weather I am going to be out.
"I want to do this to help these people – it is something I am really passionate about."
Bryan's initial fundraising target was, as RBLI suggested, £150, but this has almost been doubled thanks to the support he has received.
A bin man for North Kestevan Council, Bryan always makes sure he wears his campaign beanie while out and about, which has attracted lots of comments and some donations.
He said: "I am not pushing donations; words of encouragement and kindness will help me stay doing this."
Make a donation via Bryan's Facebook fundraising page here or use the QR code on posters around town, including at the library.