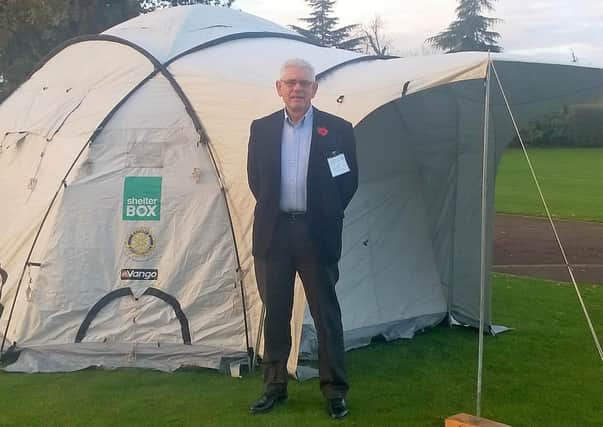 The Rotary Club of Market Rasen has been collecting for, and helping to fund the ShelterBox activity for many years and during that time has donated more than £32,000 to the charity.
Once again, members used lockdown to their advantage and 'Zoomed' a meeting where the speaker was Ian Wilson, a Rotarian based in the West Midlands, where he is a district co-ordinator for ShelterBox.
The charity provides emergency shelter and other essential items to families who have lost their homes to disaster, and currently has teams working to support communities in Cameroon, Paraguay, Somaliland and Syria.
At any one time there are more than 88 million people throughout the world homeless through disaster or war etc. The Rotary Club of Helston in Cornwall was one of the first to want to try and do something about this issue and eventually they set up ShelterBox as a Millennium project.
The success of this local Rotary project was such that it quickly outgrew the local club and became a full-blown Rotary project.
Today ShelterBox and Rotary partners in disaster relief have been active in over 97 countries, wherever disaster relief is required – even in North Korea.
Market Rasen Rotarian David Mason said: "Due to our meetings going online, we are able to have speakers from further away.
"It was wonderful to welcome Ian and get an update on ShelterBox projects.
"As a club, we have been involved for the past 16 years, but we couldn't have made the contributions we have without the generous local residents, who have contributed to our collections over the years.
"Particular thanks go to our local Co-op shops who allow us to collect in-store at Christmas time."
The 2019 Christmas collection saw an increase of 20 per cent on previous years.
The most recent fundraiser was the Lincolnshire Evening, just before lockdown began, which saw a further £470 being raised for the ShelterBox charity.
The way the charity delivers aid to families varies with every disaster, but the ShelterBox is at the heart of what they do.
The sturdy green ShelterBox itself is an essential part of the aid range, and not just for storage. They have seen families use it as a work bench, a wardrobe, a seat and even a crib.
ShelterBox aims to only send out boxes containing items that are immediately required in the area they are working - warm bedding and/or mosquito nets - following evaluation from their First Responder Response teams.
To find out more about the charity, to donate and volunteer, visit shelterbox.org