Rasen Rotarians welcome district governor
Market Rasen Rotary welcomed their new District Governor, Dr Jill Bethell MBE, to a recent Zoom meeting, with 18 Rotarians present.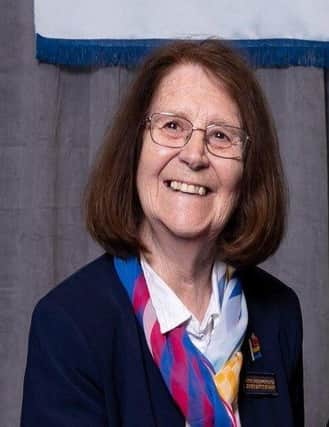 The retired doctor will lead the district team for a year, ensuring Rotary has fresh vigour to be 'alert' to the needs of communities throughout South Yorkshire, the East Midlands, including this part of Lincolnshire.
Jill, a Londoner by birth, trained in Sheffield spending many years in Dronfield.
With others, she started the Welcome Club on Tuesdays in memory of her father who had multiple sclerosis; the Cardio Club for those with heart problems – often Jill's Friday evening surgeries were busy with men from 50 to 70 years, who had suffered heart attacks, needing to 'touchbase' and check out their concerns.
Dronfield's keen, vibrant St John Ambulance Unit invited Jill to be their president and Dronfield Guides to be their ambassador.
She has also been a church warden for five years.
Jill and husband Tony were both very honoured to receive MBEs at the same time in 2011, for services to the community of Dronfield.
Jill said she would very much like to visit Rasen Rotary in person and get to see where they are and what they get up to. She was conscious the pandemic had caused everyone problems but it had also opened opportunities for change.
The current Rotary theme for the year is – Rotary Opens Opportunities – and this is most appropriate given the Covid-19 situation.
Virtual meetings now seem to be the order of the day, whereas previously this would have been completely out of the question.
Rasen Rotarian David Mason said: "The fact that we no longer need to travel to reach meeting venues opens many possibilities and makes use of external speakers a more realistic proposition.
"District council meetings, which for us involves considerable time and expense in travel, are now possible quickly and economically via Zoom.
"These have been well attended and well received."
Membership is a significant issue for Rotary.
The format of meetings need to be considered to make them more attractive to potential new members and supporters.
Consideration needs to be given how to make Rotary more available to other members of society who could give a valuable input.
New technology (as the Rasen club has done with Zoom) may be the key.
This may influence new members who could be supportive, helpful, and who are used to working in alternate ways to the traditional style of meetings.
Rotary president David Herring, host of the meeting, was concerned that the Rasen Club is in a very rural community, with a generally low density population and this made attracting new members and setting up these alternative clubs very difficult:
Jill responded that whilst she fully understood their position, she referred to the recent establishment of a new Rotary club at Long Bennington, which had also been set up in a small rural environment and was continuing to attract new members.
Jill said: "This highlights the issue – getting together a group of enthusiastic individuals, grouped by interests, age and enthusiasm who then generate their own momentum and attract their colleagues and compatriots.
"We should identify these groups within our community.
"People trust the name and activities of Rotary, and were very willing to donate to our causes, and from that basis we should be able to widen our membership and supporters groups ."
Local schools could be encouraged to set up RotaKids clubs –in schools, youth groups or community centres.
With help from teachers, youth leaders and local Rotary, children can gain valuable experience in helping others and getting involved in the Rotary family.
RotaKids then grow up into Rotaractors, where they can further their Rotary involvement before eventually becoming full members of their local Rotary.
E-clubs are another possibility, where there need be no set meeting venue just a coming together of like-minded individuals – family groups, workplace groups, professional groups.
All they would need to do is to be able to follow the Rotary 4 way test: Consider for every action: Is it the truth? Is it fair to all concerned? Will it build goodwill and better friendships? Will it be beneficial to all concerned?
Jill also thought there was a need to increase the female membership to try and reflect the general population.
She had noted that where both genders were present, there were significant benefits to the success of a club.
Jill added: "Rotary is too important to remain static."
To find out more about the Rotary Club of Market Rasen, call membership member Peter Marriott on 01472 852054.