Rasen shop fined for selling vapes to children
Fantasy Vapez in the town's King Street has been fined more than £3,000 after a case was brought against them by Lincolnshire Trading Standards.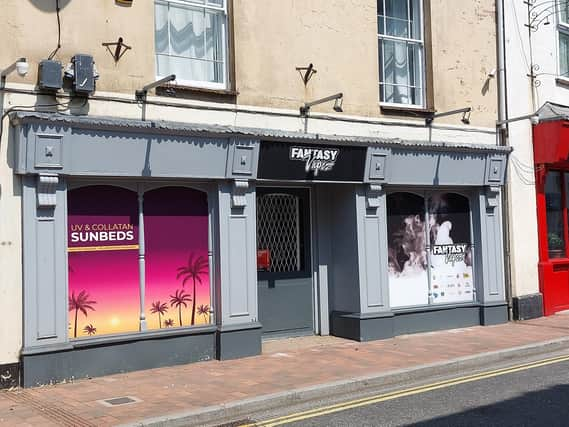 In October 2022, Trading Standards carried out an underage test purchase at the store at 14 King Street. On that occasion, the 15-year-old volunteer was sold an age-restricted e-cigarette (disposable vape) after staff failed to check their ID.
​In the month before the test purchase, Lincolnshire Trading Standards says they had given advice to the business specifically around putting processes in place to prevent children being sold age-restricted products. This included writing to them, and officers visiting to follow-up on complaints from residents that the shop was selling vapes to children.
​According to Lincolnshire Trading Standards, at Boston Magistrates Court on June 5. 2023, the magistrate noted Fantasy Vapez had been given ample opportunity by Lincolnshire Trading Standards to put a system in place to address underage sales, but had failed to do so.
​Fantasy Vapez was fined £1,200, ordered to pay a victim surcharge of £481, and costs of £1,621.81, making a total of £3,302.81.
​Principal Lincolnshire Trading Standards officer, Daniel Brown, said: "During our visit to Fantasy Vapez in September last year, we found that the business had no staff training process in place, no refusals log, and no till prompts of any kind which would help stop children being illegally sold nicotine products.
​"We gave them lots of advice on how to prevent underage sales, including 'Challenge 25' and staff training, and creating and using a refusals log. But a month later, when the test purchase took place, staff confirmed they still hadn't been trained on how to prevent underage sales."
​Mr Brown continued: "We want to help businesses in the county to follow the laws and trade safely and legally – and the vast majority of them do. But there comes a point where it's clear our advice is falling on deaf ears and we need to take action to stop these products falling into the hands of children."
​Vapes have become a new battleground for Lincolnshire Trading Standards in the past year after they have exploded in popularity.
​The service carries out underage test purchases for vapes at premises across the county. Roughly one in five results in the underage volunteers being sold vapes, compared to around one in ten for cigarettes and alcohol.
​Illegal, oversized vapes have also become a more prevalent issue, and around 9,500 of these illicit products have been seized from Lincolnshire shops since May 2022.
​​​​​​​​ Research shows that vaping is 95 per cent less harmful than smoking cigarettes, and the public health message remains that smokers should look to e-cigarettes as a way to quit smoking. But those who have never smoked should not take up vaping.
To help curb the rise in young people vaping who have never smoked, the county council has a dedicated officer who delivers workshops to schools explaining the laws and health impacts of vaping.
Anyone worried that a shop is selling vapes or other age-restricted products to children, or sells illegal oversized vapes, can report it to Trading Standards through the Citizens Advice consumer service.