Rasen store offers 'safe space'
​For anyone affected by domestic abuse it can be difficult to know where to turn, but now a Market Rasen shop has launched an initiative to help those in need.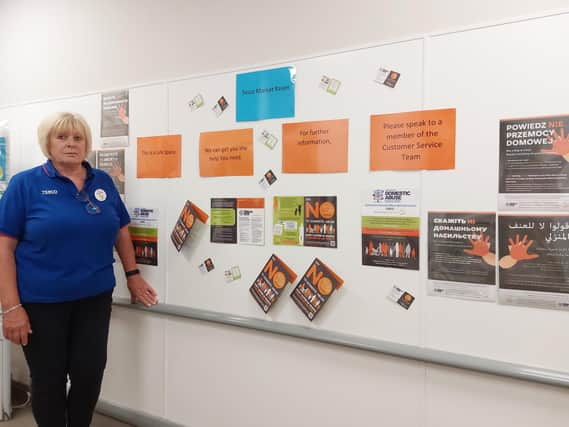 ​Tesco has teamed up with domestic abuse charity EDAN Lincs to offer a safe place to anyone who needs it.
The Linwood Road store's community champion, Amanda Gwyther, is keen to get the message out that they are there to help.
She said: "We know there are people out there affected by domestic abuse who don't know how or where to go and we wanted to do something to help.
"And it isn't just women; men and children can also be affected.
"If someone does need help, all they need to to do is go to our customer services desk, to the right of the store as you come in, and ask to speak to the duty manager.
"They will then be taken to a safe space in store and contact made with EDAN Lincs as needed."
Since it formed in 1999, EDAN Lincs has gone from serving the West Lindsey area to working in a much wider capacity.
Earlier this year, the county council, with support from Lincolnshire's Police and Crime Commissioner and NHS Lincolnshire Integrated Care Board, commissioned EDAN LIncs to deliver a 'new look' specialist domestic abuse support service across Lincolnshire.
It is currently working locally with 62 families, this includes 90 adults and 122 young people, which is why Amanda says the store is keen to link to this valuable service and do what it can.
​Amanda said: "When people flee an abusive home, they tend to arrive with nothing at a refuge.
"We want to work with our customers and help where we can.
"We have been told by our contact at EDAN Lincs that their biggest need is toiletries, so we will be doing a collection in a similar way to our foodbank scheme, which will also continue to operate."
Bags of toiletries will be prepared and ready for customers to pick up and put through the till with their regular shopping, before placing them in the designated trolley.
Individual items will also be welcomed.
Amanda said: "Everything we collect in store will go to help those in the West Lindsey area."
She added: "We are so grateful to our generous customers for helping us with these community projects – we couldn't do it with them."