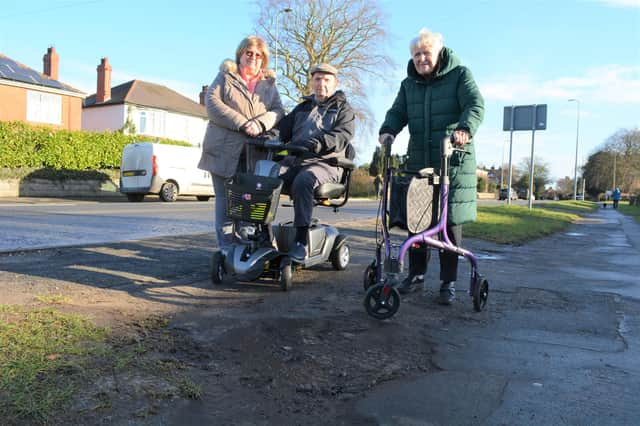 Janet Sales says her 86-year-old parents face a "horrendous and perilous" walk just to get to the local shops.
Mum Norma uses a walking frame and dad Brian has recently started using a mobility scooter.
Janet said: "The pavements are totally broken up in places and they are dangerous.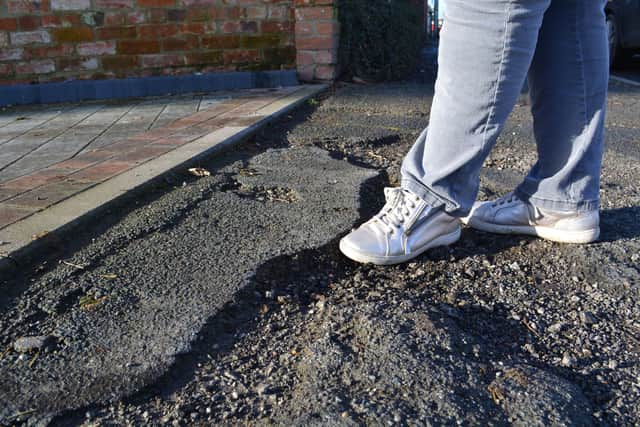 "One of the worst places is on Willingham Road, between De Aston School and Pitstop Garage. This gets a lot of use as it is a main road. There are the children walking to and from school as well as a lot of older people, as there are lots of bungalows in that area.
"We have tried to look at alternative routes to the shops, but all the roads are just as bad – they are all horrendous.
"I might be wrong, but I don't think these pavements have been done for around 30 years. They are perilous and something needs to be done."
Janet has made a Freedom of Information request to Lincolnshire County Council to find out how many complaints they have had about the state of the pavements in Market Rasen and has also written to the town's MP, Sir Edward Leigh.
Last week, Janet started an online petition to highlight the issue.
She said: "We have seen how my parents struggle on a daily basis due to the poor state of the pavements and they cannot be the only ones.
"It makes people feel unsafe and that can knock their confidence for going out.
"Hopefully, anyone who is directly affected by the state of the pavements, or who has relatives struggling to walk to the shops to get provisions because of the condition of the pavements, will sign the petition, so we can show what people feel about it all."
Janet's sister, Pauline Blaker, who helps care for Brian and Norma, is pleased the issue is being highlighted.
She said: "I am really worried about dad on his scooter in case he hits one of the bad areas and tips out, especially with the camber of some of the areas too.
"Mum too is struggling with her walker in places. One area was so badly pitted, her walker got stuck and she had to lift it out. Luckily, it is a lightweight walker and she was able to do it, but others may not be so lucky.
"We need smooth surfaces, not this crumbling Tarmac."
Care of the pavements comes under the highways department of the county council.
Janet said: "I have complained to LCC and they have said they will look at it and will action it – but they haven't said what they will action.
"It isn't just one small area. We need to survey the whole area. Ultimately, I would like to see some new pavements, particularly along the main Willingham Road."
Ward member for Market Rasen on the county council is Coun Stephen Bunney, who is also Market Rasen's mayor.
He said he too has concerns: "Lincolnshire County Council Highways do not place sufficient priority or resources on pavement maintenance and improvement.
"Janet Sales's petition will hopefully help correct this clear omission. I therefore encourage as many people as possible to sign up and support her campaign, which can be found on local social media pages.