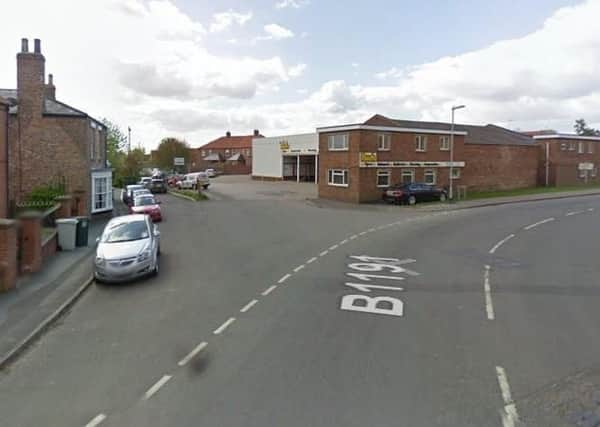 Clive Pidgeon contacted the Horncastle News, claiming he has now witnessed two near miss accidents involving cyclists using a footpath at Langton Hill/West Street.
Mr Pidgeon said:"I witnessed another near accident just a couple of days ago.
"There were a couple of kids who came whizzing down the hill and they come across the access road to Bushes and Jackson's and the access roads to the houses just beyond us.
"They came flying across there and it is a blind corner.
"This could be prevented with minimal cost in relation to a life.
"They (cyclists) ride on the footpath - which they shouldn't do - and they ride on the pavement as well.
"I've walked out the house a couple of times and you have to check there isn't a bike whizzing towards you.
"It is getting quite bad.
"With the increase in bikers due to lockdown and Covid-19, there are a lot of novice riders about and they really haven't got a clue.
"It is really only a matter of time before the inevitable happens - somebody is going to get hurt.
"They should impose the footpath because the cycle path comes off the road before this.
"My neighbour bought my attention to the problem and we feel something needs to be done.
"If a couple of kids get knocked off their bikes, there will be questions.
"All that needs to be done - in my opinion - is to enforce the footpath element and the cycle path element.
"If that was enforced or adhered to the problem would go away.
"It has been flagged up in the past so it is not new to Lincolnshire County Council.
"We've only been here two and a half years but it has always been an issue.
"It has increased recently and it needs to stop before it gets out of control or before someone gets hurt.
"The pavement is not really wide enough and the bikes are grazing my windowsill.
"It is wide enough for people but they shouldn't be riding bikes.
"I've reminded people that have been riding bikes that it is a footpath, but I'm told to mind my own business.
"On Saturday (July 18) between 2pm and 5.30pm I saw 23, and on Sunday (July 19) between 11.30am and 3.30pm I saw 64.
"I wasn't 'glued' to the window but these were the ones I saw and when I spoke to one group they said they had no idea that there was a proper cycle path available and that they thought this footpath was the only route.
"When I told them the proper route they were all very grateful as they didn't want to cause offence and went round that way.
"That said, I have spoken to others and been told what to do!"
Councillor Bill Aron, county councillor for Horncastle and the Keals, said: "Whilst it is fantastic to see an increase in the number of pedestrians and cyclists using the Spa Trail, I'd like to appeal to local cyclists not to ride along the footpath at the bottom of Langton Hill.
"The footpath is very narrow and runs alongside the river, making it suitable only for pedestrians.
"Cyclists can access the bridleway safely further down the river trail by going down Station Lane and The Sidings.
"We are looking into what measures could be put in place to encourage cyclists to dismount on the public footpath, and let them know how to access the bridleway for cycling."