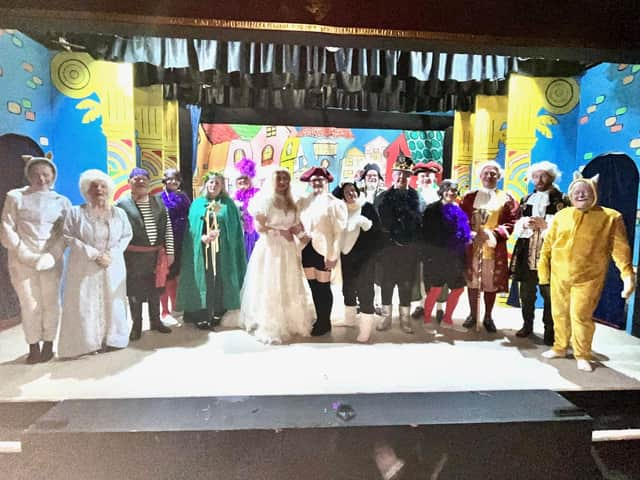 Featuring a host of long-standing, and new, members of the group, Dick Whittington tells the old story of Dick Whittington – the thrice Lord Mayor of Horncastle and played by familiar face Lynne Hawkins – and how he is helped on his way by a magical feline (very energetically played by Gail Hinkins) – but with an ingenious twist on the tale we all know and love.
Instead of battling against the rat-infested streets, the duo are requested to help battle a more feathered nemesis which Horncastle residents will be only too familiar with – pigeons!
Doing battle with the hilariously dastardly King Pigeon – played with growly-voiced aplomb by Tommy Peckham in a fantastic Steampunk themed get-up – and his dim-witted minions Lofty and Buster (Russell Alder and Joe Bramley), Dick must help to keep his family cafe business afloat while trying to win the hand of his love, Lisa (the very talented Lucy Mosdell) and navigating various new careers.
Also attempting to find love is Dick's mother Dame Whittington, played by Derek le Page, clearly having a ball in various voluminous frocks and who brings a cheeky energy to the coveted dame role.
The script has been given a fantastic update with nods to various local locations and community groups – did you know the streets of Bardney are paved with gold? – which the adults in the audience will love, and enough slapstick, fart gags and silly humour to keep the youngsters entertained.
Special mention has to go to the exceptionally talented dancers from Nancy Byrne Theatre Arts whose various routines were fantastic, and the set designs were also very professional – the ship in particular was fantastic.
The team have all done a fantastic job with the set, props and costumes, and the cast bring so much fun and energy to the stage – all in all, another triumph for the Horncastle Theatre Company.
Dick Whittington will open at the Lion Theatre on Thursday (January 26) running til Sunday January 29, then from Wednesday February 1 to Saturday February 4 at 7.30pm – with matinees on both Saturdays and Sunday 29 at 3pm.
Tickets are £8 and are selling fast – visit https://horncastletheatre.co.uk/book-tickets/ or visit the box office, located at Rose & B on the High Street and the Bull Ring (cash only).