REVIEW: Here come the Ladies with another triumph for Horncastle Theatre Company
​As the nights get darker and you'd be tempted to stay at home, I'd encourage you to head out to the theatre and support our town's thespians as their latest play is well worth it.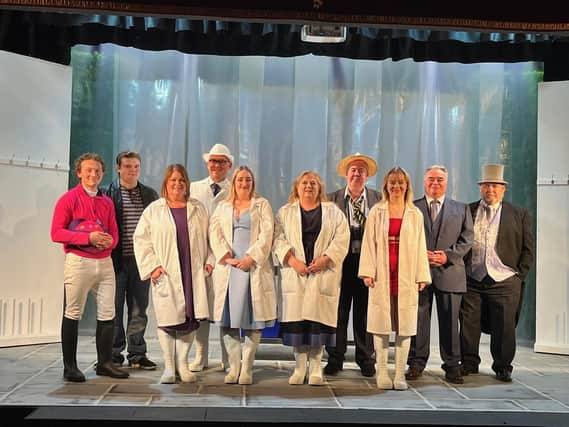 ​Horncastle Theatre Company is back with its autumn play Ladies Day, which is opening tomorrow (Wednesday) and as always, the talented cast do not disappoint.
As the name suggests, Ladies Day is all about its core-four cast of women, with Pearl (Jane Whitlock), Jan (Amanda Eastwood), Shelley (Sophie Campbell), and Linda (Natasha Lowes), who work together at Hull fish docks, swap their hairnets and filleting tools for fascinators and champagne as they head for a day out to Ladies Day at Royal Ascot in York.
Each lady is nursing their own secrets and problems, ranging from family problems, unrequited love loneliness, infidelity, and spiralling debts, which all come tumbling out as the drinks flow at Ascot.
The four leading ladies absolutely steal the show with their brilliant rapport, quick wit and on-stage chemistry, and the audience will no doubt believe in their unlikely friendships – and hats off to them all for learning so many lines!
Sophie as Shelley is absolutely hilarious and actually made this reviewer choke on her drink laughing at her one-liners – we all know a Shelley who has a sharp tongue and tells it how it is but has a heart of gold. But she's in danger of having her head turned by predatory TV presenter Jim McCormack (played with slimy aplomb by Jon Cooke).
Natasha's wonderful turn as innocent, slightly dippy Linda will have you laughing at her gullibility but also feeling for her as she's taken advantage of by unscrupulous family members, and when she meets handsome Irish jockey Patrick (ably played by Russell Alder channelling a young AP McCoy) you can't help but feel she deserves her happy ending.
Jan's swooning over her boss Joe (David Allerton) leaves you rooting for her to finally tell him how she feels, and Amanda is clearly having a blast as Jan gets stuck into the champagne.
Jane's turn as Pearl is absolutely wonderful as a lady who is about to retire from her factory job to enjoy life with her husband, but we find out she's also nursing a secret love (the suave Chris Liversidge) – will she get her happily ever after when he "coincidentally" bumps into her during Ladies Day?
Starring roles also come from Tristan Forrester as unscrupulous ticket tout Fred and Thomas Peckham as Kevin who has lost so much more than just his money during the races.
And while all this is going on, there's some excitement as the wins keep coming for the ladies (special mention to Alan Paine for his excellent racing commentary) and before they know it, they could be in for a share of £500,000...
Hats off once again to the set designers as the brilliant, seamless switch from the fish factory to the glamourous Ascot was nicely done, as well as having the backstage crew dressed the part in overalls and racing overcoats.
Overall, another brilliant turn from a very talented cast, and director Sheena Liversidge should be very proud of her triumph.