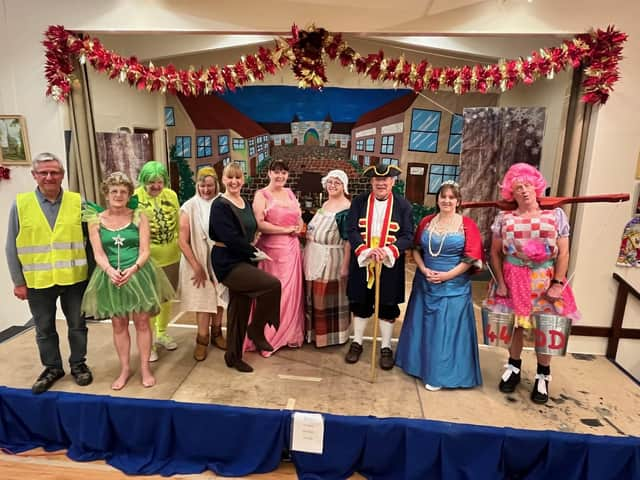 This year's pantomime is Jack and the Beanstalk, and the cast is made up of former and current nurses, as well as friends of the hospital, who are aiming to raise as much money as possible for the hospital, Motor Neurone Disease and Ayscough Hall.
Considering that acting is not their 'day job', all of the cast do a fantastic job in their respective roles, with Yvonne Stainton playing Jack with oodles of energy and thigh-slapping jollity and Chrissy Raithby as the very glamourous Princess Pimms.
The hilarious Steve Baumber plays Dame Senna Trott with aplomb and looks very fetching in his many flamboyant dresses, with plenty of silly jokes for the children and cheeky gags for grown ups that will go over the heads of youngsters.
Baddie Slimeball, played by Fern Garland, will inspire plenty of boos and hisses from the audience and the Giant (Julie Dixon), who bears more than a striking resemblance to the late, great Robbie Coltrane as Hagrid in the Harry Potter movies, also bring plenty of dastardly humour to the show.
The narrators, otherwise known as the double-act Janitors (Jon Hinkins and Paul Staines), keep the flow of the show going nicely and Queen Butterbags (Binny Baumber) and her sycophantic sidekick Trumpet (Bob Laughton) do a grand job of trying to keep Jack and the Princess apart – to hilarious results.
Described as not having one director in charge but rather a 'directive collective', everything about Jack and the Beanstalk is a group effort, from the designing of the sets to the costumes pulled together with very professional results – including the adorable Daisy the cow.
In all, Jack and the Beanstalk is a fantastic show for very good causes here in Louth and I'd highly recommend everyone to go and see it to do their bit for our town's hospital.
Jack and the Beanstalk will be performed at Ayscough Hall in Louth from Tuesday, January 10 to Saturday January 14, with tickets priced at £6 for adults and £4 for children.
To buy tickets, call 07879 815698, or also available from the Miller's Daughter pub.
Princess Pimms – Chrissy Raithby
Dame Senna Trott – Steve Baumber
Queen Butterbags – Binny Baumber
Fairyv Odema – Maggie Pawson
Daisy the cow/Janitors – Jon Hinkins and Paul Staines