Rock band 'Bowling For Soup' is heading to Grimsby Auditorium
Texan pop-punk band Bowling For Soup is returning to the UK with hope of some fun in the sun next Spring, including a visit to Grimsby Auditorium.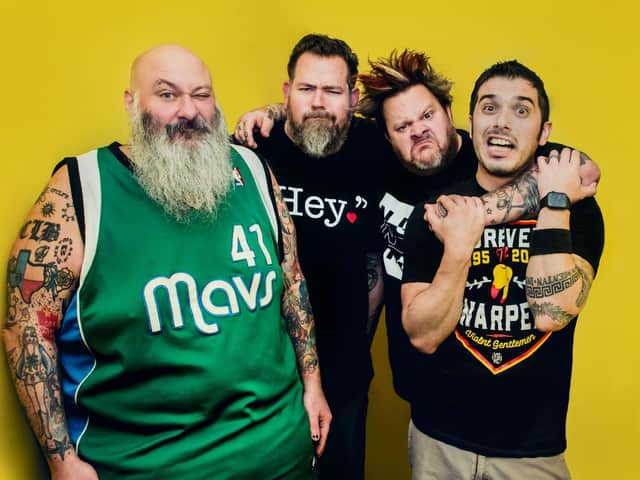 Bowling For Soup
The band - best known of their hits 'Girl All the Bad Guys Want' and '1985' - will be jetting over in May 2021 their first ever UK tour completely focused on 'seaside towns'.
As always, Bowling For Soup like to bring bands along for the ride who provide a fantastic full evening's entertainment for their fans, and this is no different for the Surf The UK tour.
Joining the band on the trek will be Orange County alt-rockers Lit, best known for their global smash hits 'My Own Worst Enemy', 'Miserable', and 'Over My Head'.
Alongside Lit, Bowling For Soup's friends and longtime collaborators The Dollyrots will also be bringing their infectious brand of bubblegum punk along to the show.
There will be eight UK dates in total, starting in Blackpool on May 1 and heading over to Grimsby Auditorium the following day (Sunday May 2, 2021).
There are also venue presales for some of the shows, available on October 8 at 10am. Check individual venue websites and social media for details. Tickets cost £30.50 each.
Bowling For Soup's main man Jaret Reddick is very much looking forward to seeing the UK part of the 'BFS Army' once again. He said: "It's such a weird time. These dates will be 14 months since our last live shows. It is certainly hard to wrap my head around that.
"I absolutely can not wait to be on stage again, and in front of a UK audience, which everyone knows are the best fans on the planet!
"I can't think of a better way to kick back into gear! Rest assured, we will be compliant with any and all safety guidelines still in place during this tour! Let's DO THIS!"
Lit singer AJ Popoff is similarly looking forward to getting on the road with Bowling For Soup, and said: "We are beyond excited to get back to the UK and play our rock show with our good buddies BFS! The UK is our favorite place to play! Can't believe it's taken us this long to tour together! Gonna be a hell of a show!"
Last but certainly not least, The Dollyrots are already counting down the days until they return to the UK. The band said: "We're absolutely thrilled for this tour, can't wait to get on the bus and hit the stage with our [best friends] in rock - and real life! After a break from the UK and touring due to the obvious, we're ready for these shows to go off!!"