​Rotarians call to help Ukraine
Market Rasen Rotarians have launched a fundraising appeal to supply electricity generators to the Ukraine.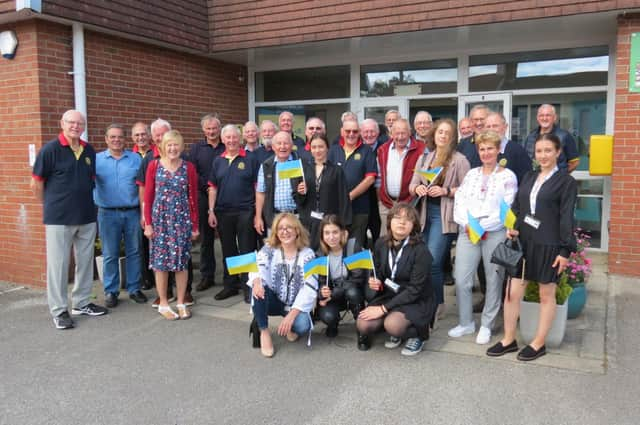 The initiative sees them partnering with the Rotary Club of Marlow in the Thames Valley to get the generators to where they are needed most – the country's hospitals.
A video has been created to support the appeal, where Rotarians David Mason and Tony Neal interviewed Ukrainians now living in this area.
One of those featured is Marina from the capital, Kyiv, who is now living in North Kelsey.
She said: "It is too hard to be so far from our house. My husband and my son are still in Ukraine and they are at risk every day in our country.
"Last winter was the hardest winter in our life. Our country was in darkness; no electricity - it was cold, dark it was terrible; a nightmare. The only way out is generators, but these are quite expensive and the war is depleting our economy, therefore we have to ask for help."
Market Rasen Rotarians say they are determined to offer that help and are hopeful that the Rasen community will back their appeal.
Rotarian Neal said: "The generators are bought in this country and shipped to Ukraine, where they are received by members of Rotary International, who ensure they reach their intended destination."
Rotarian Mason added: "We know our community is a generous one from our previous appeals and we hope they will be generous once more to give whatever they can afford to this life-saving cause."
​Each of the large generators costs in the region of £10,000 and, so far, nationally, £126,000 has been raised, meaning ten generators have been sent to East Ukraine so far.
Rtn Mason said: "This is a start, but so much more help is needed.
"We have set up a Justgiving page so people can donate online and we thank those that have already done so."
Speaking in the appeal video, Marina said: "I truly believe that kindness will save this world.
"I have already seen the kindness of British people; we really appreciate your support and we are counting on your help. Your donations can save lives.
"Injured and sick people need uninterrupted power supply, so we will be really appreciative of your help."
Alternatively, donations can be made direct by bank transfer to Rotary Club of Market Rasen Trust Fund; sort code 30-98-97; account number 36301368, using the reference generators.
Cheques will also be accepted, made payable to Rotary Club of Market Rasen Trust Fund, and these can be sent to Rtn David Mason, 13 Whitegate Hill, Caistor LN7 6SW
The final word goes to one of the young people contributing to the appeal video, Maria, who said: "It is difficult to read the news and see how people are dying in hospitals because of no electricity.
"At least what we can do is donate money and we ask for your help."