Rotary Golf day tees up £4,900 for air ambulance
At long last, relaxed Covid restrictions allowed Market Rasen Rotary Club to hold its 10th Annual Golf Day in aid of the Lincolnshire and Nottinghamshire Air Ambulance.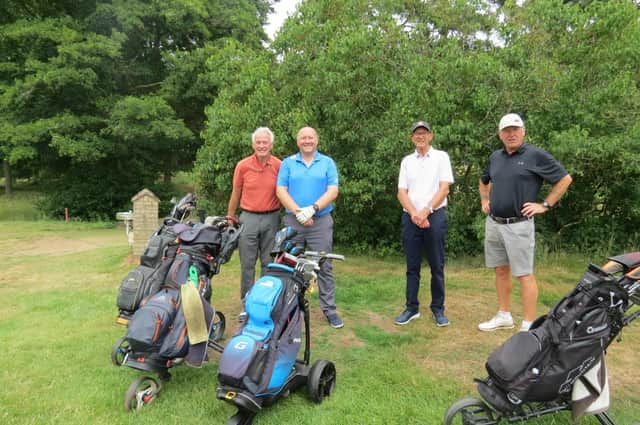 Paul North, Lincoln Golf Club; Mark Shepherd, Blankney Golf Club; Steve Shepherd, Lincoln Golf Club; David Campbell, Lincoln Golf Club
What an event it proved to be, with a record £4,904 raised.
This brings the total raised for the charity from the golf events since they began in 2011 to £30,314.
Rotarian John Smith has organised the event since its inception and was delighted with the result.
Making sure the halfway house was stocked up
He said: "The financial success of the event hinges particularly on support given by businesses and individuals through sponsorship in various ways, ranging from raffle prizes, donations, hole sponsorship, halfway house
sponsorship, right up to main sponsorship.
"Market Rasen Rotary thanks all those who supported the event in any of these ways, as £3,350 of the total made came from this support and sponsorship.
"A raffle held on the day also contributed £675 to the funds.
Rotary partners were on hand to help out
"Thanks also go to Market Rasen Golf Club for their co-operation and presenting the course in such a good condition despite the very dry conditions."
This year's event attracted 28 teams from the length and breadth of the county, as well as some players from neighbouring counties.
John Smith said: "Teams registered in the Clubhouse before playing and thanks must go to Bob Pearce and Ian Riby of Market Rasen Golf Club for carrying out thisonerous and important task, as the golf handicapping system had changed since Rotary last held the competition in 2019 and was new territory to me."
At the end of the day winners were presented with their prizes by Market Rasen Rotary President John Moore.
A welcome break at the halfway house for Bob Palmer, Tim Kitchen, David Cook and Roy Pearce from Gainsborough Golf Club
1. D Dawson, P Pearson, B Smith, G Tyler from Boston Golf Club with 103 points.
2. K Eddington, J Ward, Sue Ward and Cindy Ireland from Woodhall Spa Golf Club with 95 points (50 points on the back 9 holes).
3. P Neville, G Page, JMetcalf and D Gray from Thonock Golf Club with 95 points (45 points on the back 9 holes).
Rotary President John Moore, vice-president Richard Lewis and tournament organiser John Smith
Tony Kitching (Thonock) was nearest the pin on the 5th hole and Alan Hayes (Market Rasen) was nearest the pin on the 18th hole.
The Everyone Active team preparing to tee off: Gavin Edwards, Regional Manager; Chris Duncan and John Priestley