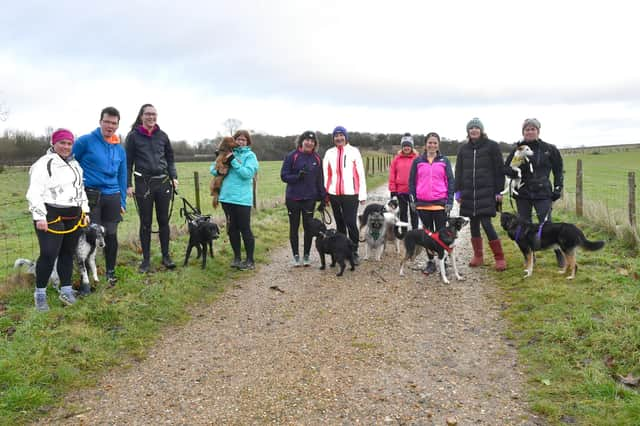 Canicross – cross country running with dogs – has grown in popularity in recent years as people have been discovering the benefits of not only to your health, and that of your dog, but socially as well as you run with like-minded people while spending quality time with your dog.
A recent study by outdoor retailers GO Outdoors and mental health charity Mind revealed nearly half of Brits (49 per cent) have claimed to experience challenges with their mental health every week, with 61 per cent agreeing that the outdoors is where they feel the most content and unburdened.
On top of this, over half of dog owners in the UK (56 per cent) have claimed that they find outdoor activities more enjoyable with their pet dogs.
It was wanting to exercise with her dog that led Gemma Grisewood, of Louth, to look into ways she could get involved in canicross seven years ago and started attending classes with the Lincolnshire Canicross Group.
She said: "I'd been running for a while but I wanted to help my dog, who was reactive [will bark or lunge at other dogs], to socialise in a safe way."
In a bid to further understand her reactive dog, Gemma began studying to become a clinical animal behaviourist to understand canine behaviour, which linked into the benefits of canicross.
"I found running so much more enjoyable with my dog and we'd go for miles together," she said, "He's nine now and he's retired and is a sofa dog now, so I started doing it with my new dog, Ruby, a few months ago – she definitely makes me run faster."
Ruby, a Welsh Collie, is a rescue dog who had spent her life in Wales on a farm and had to be rehomed when her owner became too ill to care for her. Gemma said as she'd led quite a sheltered life, she was unable to walk on the lead:
"That's why canicross is good for her as the focus isn't on them walking to heel but on exercising together."
As there are a limited number of canicross groups in Lincolnshire, Gemma then decided to offer a canicross group near her home in Louth, and during the Covid-19 lockdown started training to become a qualified canicross trainer:
"I wanted to offer people in the area the chance to come and give it a try, and it's really grown since then," she said.
Gemma now offers two classes on a Sunday morning; a Couch to 5k run for beginners – both human and canine – who have never run either as a pair or at all, and a more experienced group for those who have graduated the 5k group.
Meeting just outside Welton le Wold, the groups will run around 5km, and Gemma said there's no pressure on either the dogs or the owners:
"Everyone goes at their own pace and if people want to stop and have a break that's fine," Gemma said. "Others will be looking to improve their times and distances and others are total beginners, everyone is welcome."
There are dogs of all shapes and sizes joining in, from spaniels and collies to larger dogs such as Hungarian Hounds to petite Dachsunds.
The requirements for taking part in canicross are that your dog must be over 12 months old and have no medical or health conditions which affect their ability to run.
"Reactive dogs are welcome to join, as it's all about giving them the space that they need to run and be around other dogs in a safe way that makes people feel comfortable," Gemma said.